Painting on Deadline
By Barbara Geehan
Contributor

One of the classiest shops in one of the classiest towns in Southern Maryland is really feeling the lethargic economy. Many of you probably have been there, or at least have driven by:  carmen's gallery is located along the main stretch of historic Solomons Island, 14550 Solomons Island Road, a charming house built in 1880 across the street from the Patuxent River.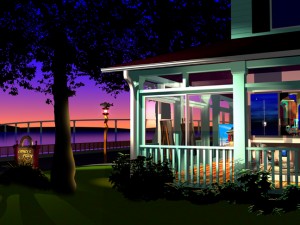 I went down there to get details from gallery owner Carmen Nance Gambrill on the upcoming Solomons Plein Air Festival, June 13-16. Whether you are an artist, an art appreciator, or just like spring outdoor festivals, this event has something for everyone, even the kids. Nance Gambrill is hoping this event will help put Solomons – and her gallery – on the radar of folks across the Eastern seaboard.
"If we can get people to Solomons, all will benefit," she says. "I have run this business for 31 years, and I am really holding on by the skin of my teeth."
Gambrill is well known in the community and has made a lot of friends. She is always involved in helping organize fundraisers for this charity or that cause, or planning painting workshops. To celebrate the gallery's 30th anniversary last year, she had an event every month.
"I have to tell people now that I don't have money to support their causes, but I can give you my time," she said.
Carmen's sells fine art by renowned artists from all over the world. In addition, there are blue metal sculptures of fish and boats; unique jewelry and pottery; and kimonos and light jackets in psychedelic colors. She started the business by framing art and has a heartwarming story about how her favorite grandfather helped.
"I grew up living in the 'little house' behind his home for the first six years of my life, and then moved about a mile away until I left for college," she said. "He would pick me up for church every Sunday and let me play his 8-track tapes. After he died, my mother told me that he had worked his whole life with the dream of saving enough money to be able to leave each of his seven grandchildren $1,000. I knew I wanted to do something very special and important with the money, so I started my framing business. My grandpa would be happy with what I've done."
As we chat in the back of her shop, playful cats jump around, and the spots of acrylic everywhere tell stories of past creativity. She says she will not close "unless I have to. Half my life I've had this; it is a part of me." And hopefully, events such as the Plein Air Festival will help.
Here are the basics:  "Plein air" means painting outdoors. Starting Wednesday, June 13, at total of 24 artists from New Orleans to Chicago to Charleston will set up their easels somewhere in Solomons, and have three days to create. They may choose working fishing boats, or a marina, the historic waterfront, or a  nearby rural farmland.
Saturday is the big day: Their work will be judged by Charleston artist and founder of the Plein Air  Painters of the Southeast Dee Beard Dean, and shown at carmen's gallery from 6-9 p.m.  Also Saturday, there is another art event called the Quick Draw. Anyone, really anyone, has two hours to paint. All the paintings from both events will be for sale.
A Street Fair Saturday from 10 a.m. to 6 p.m. includes booths, refreshments, and children's activities, such as an obstacle course, rock wall, and other opportunities to paint. The festival is presented by the Solomons Business  Association and the College of Southern Maryland, and hosted by carmen's gallery. All the profits from the various events go to funding next year's festival, the July 4 fireworks, the Solomons Christmas Walk, and the Taste of Solomons; and to the College of Southern Maryland for a student scholarship.
Gambrill herself just started painting several years ago, and credits the passing years with making her a better painter. "I use intuition, things I couldn't have seen years ago," she said. "I do believe everyone can paint, and that everyone has it in them."
So, come to Solomons June 16, try your hand at painting, or maybe the rock wall! And drop by to say hi to a local institution, carmen's gallery.