Wrecked Plane Thought to Be 1940-50s Navy Aircraft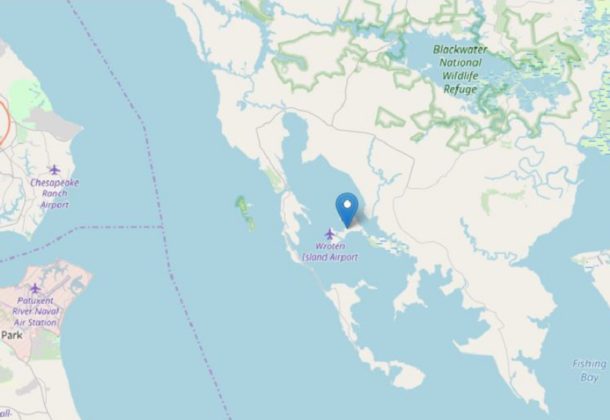 Morning Coffee is a robust blend of links to news around the internet concerning the Naval Air Station Patuxent River 

economic community. The opinions expressed here do not reflect opinions of the Leader's owners or staff.
An Eastern Shore TV station news helicopter discovered what appears to be a crashed plane in the waters of Wroten Island in Dorchester County, WBOC 16 reports. The wreck site is completely surrounded by trees and marsh, so the only visibility is from above. A Navy underwater archaeologist believes the aircraft is from the 1940s or '5os. It has NATC on the tail portion, according to the report.
The Bloomberg Brain Concentration Index, which tracks business formation as well as employment and education in the STEM field, puts Lexington Park, Maryland, as No. 61 on its list, reports the Charleston Gazette-Mail. Lexington Park boasts the second-highest average weekly earnings in the country, only behind Silicon Valley, according to data from the Bureau of Labor Statistics. No. 1 on the Bloomberg list — Boulder, Colorado.
PRNewswire reports Lockheed Martin has launched a new digital curriculum for high school students, as part of Generation Beyond, its free, online STEM education program. The new Generation Beyond: Aviation curriculum includes video challenges, a virtual field trip to Lockheed Martin's Skunk Works and STEM lab takeovers in select high schools.
Recruiting the US military's cyber force is more difficult than retaining digital warriors, reports Fifth Domain. Gregg Kendrick, executive director of the US Marine Corps Forces Cyberspace Command, said the corps cannot compete with the private sector when it comes to salary, but they have an advantage when it comes to job experience and "the mission."
Designed to be a stealthy sensor platform that can fight nearly anywhere in the world, the F-35 Lightning II can now feed its targeting data back to Navy ships, allowing the task force to engage dozens of targets without the F-35 having to fire its own weapons and break stealth, reports We Are the Mighty.
Singapore's focus has been on the F-35 Lightning II as that country moves closer to selecting its next fighter jet to replace its F-16s, opines Channel News Asia. The F-35 is widely considered as the leading option.
Two defense companies are helping the US military in an effort to develop low-band tactical RF jammers for low size, weight, and power consumption, or SWaP, applications on the EA-18G Growler electronic warfare aircraft, reports Military & Aerospace Electronics.
ManTech has been awarded a 10-year, $158 million contract with Air Force Space Command for what the company calls "full-spectrum security services to protect mission-critical programs," reports Defense Systems. No other details were offered in the company news release.
Defense Systems reports US Cyber Command is one step closer to building its cyber weapons system, Unified Platform. The Air Force awarded Northrop Grumman a $54.6 million contract to develop, integrate, deploy, and maintain the system, which will be responsible for fulfilling offensive and defensive cyber operations, intelligence, surveillance, and reconnaissance.
The NATO Secretary-General wants Russia to provide details about a new missile system the US and other allies claim violates an important nuclear weapons treaty, reports Military Times.
The US general leading the mission in Afghanistan gave a surprisingly candid interview on the situation in-country, reports NBC News. Army Gen. Austin Miller said, "This is not going to be won militarily. This is going to a political solution."
Here are the rules of engagement President Trump laid out for troops deploying to the Mexican border, reports Military Times. He later clarified his remarks to say that if migrants approaching the US border throw rocks at US military or border patrol personnel like they did with Mexican authorities, they will be arrested, not potentially shot.
The number of homeless veterans decreased by about 5 percent in 2018, according to new estimates from federal researchers, an encouraging turnaround after disappointing results the year before, reports Military Times. HUD officials now estimate about 38,000 veterans across the country are without stable housing on any given night, roughly half the number on the streets in 2010.
Contracts:
L3 – Interstate Electronics Corp., Anaheim, California, is awarded $22,126,400 for modification P00010 to previously awarded cost-plus-fixed-fee contract (N00030-18-C-0001) for flight test instrumentation program management, operations planning, and logistics support. Work will be performed in Anaheim, California (56 percent); Cape Canaveral, Florida (27percent); Washington, District of Columbia (4 percent); Kings Bay, Georgia (3 percent); Norfolk, Virginia (3 percent); Bremerton, Washington (2 percent); Laurel, Maryland (2 percent); Silverdale, Washington (2 percent); and Barrow-in-Furness, United Kingdom (1 percent), with an expected completion date of Sept. 30 2019. Fiscal 2019 weapons procurement (Navy) funds in the amount of $22,126,400 are being obligated at the time of award. No funds will expire at the end of the current fiscal year. Strategic Systems Programs, Washington, District of Columbia, is the contracting activity.
NAG Marine, Norfolk, Virginia, is awarded a $17,653,728 firm-fixed-price, indefinite-delivery/indefinite-quantity supply contract for the procurement of propulsion control, auxiliary control, damage control and ballast control human-machined interfaces to be used on various U.S. ships. This requirement is for NAG Marine human-machined interfaces (HMI) and computer hardware. This requirement is in support of various ships and programs that use NAG Marine's HMI including Naval, Military Sealift Command, Army, Coast Guard and foreign Navy ships. The contract also includes central processing unit enclosures and flat panel computers which are used to display system specific information. This contract award will contain a 60 month ordering period. The delivery date of the required supplies will be determined at the time of award for each individual delivery order. All of the hardware will be delivered to the Naval Surface Warfare Center Philadelphia Division located in Philadelphia, Pennsylvania. Work will be performed in Norfolk, Virginia, and is expected to be completed by October 2024. Fiscal 2019 other procurement (Navy); operations and maintenance (Navy); and other government agency (Coast Guard) funding in the amount of $5,435,000 will be obligated at the time of award via the first delivery order. Contract funds in the amount of $52,785 will expire at the end of the current fiscal year. This contract was competitively procured via the Federal Business Opportunities website with two offers received. The Naval Surface Warfare Center Philadelphia Division, Philadelphia, Pennsylvania, is the contracting activity (N64498-19-D-4002).