Twilight of the Super Bug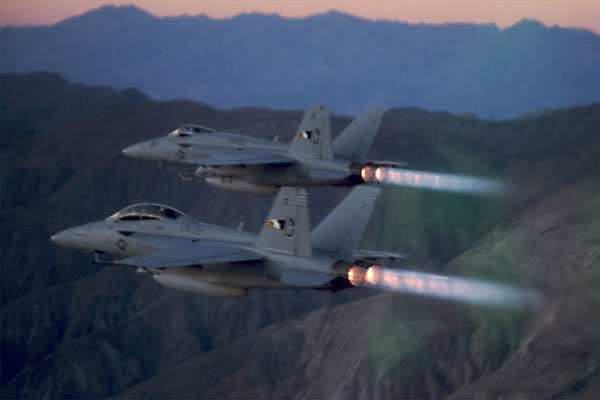 By Jay Friess
Editor
When Capt. Frank Morely stepped up to the podium at the Patuxent River Naval Air Museum in Lexington Park, Maryland Wednesday, he didn't come to talk about the troubled Joint Strike Fighter program, but he had to work hard to talk around it.
"There's a lot of people in the world talking about he JSF," Morely said. "You don't need another one."
Morely is the head of the Navy's F/A-18 Hornet program (PMA-265), a sprawling office whose responsibilities touch just about every part of the Navy's tactical air operations.
"Every weapon, every link, every comm, every pod is going to be strapped to this thing," Morely said of his relationship to the more than 30 technology and weapons programs linked to his management portfolio. "We really do touch everything. We have a lot of contacts."
According to the Navy's plan, Morely's office will take delivery of the last F/A-18F Super Hornets and EA-18G Growlers in 2016, all the while phasing out the older F/A-18 variants in preparation for the transition to JSF platform.
"We're getting close to shutting down this line," Morely said. "It's been a very mature program for a very long production run."
The F/A-18 platform has been in production for three decades, but its JSF replacement, the Marines' F-35B and the Navy's F-35C, are facing developmental problems and an increasingly lengthening delivery schedule. The Navy may have to backstop more F/A-18s in order to keep their arsenal of more than 1,000 tactical strike aircraft at full strength.
The time to make that decision is rapidly approaching, Morely said. In order to keep Boeing's F/A-18 production line open, Morely's office has been searching for foreign buyers. Australia, Canada, Spain, Iceland, Kuwait, Malaysia and Switzerland all fly some variant of the aircraft, and Morely said that Kuwait, Malaysia and Brazil are considering buying to the newer, larger, more capable Super Hornets. However, Japan has opted to buy the JSF, and India is pursuing the French Dassault Rafale fighter.
"You want to keep production going? I got an option for you," Morely said, adding, "We're kind of the no-drama option."
That option is quickly closing. As time progresses and the long-lead suppliers for the program move to other things, Morely said, "Our ability to compete gets harder."
Morely warned that the Navy needs to be careful when leaving the F/A-18 platform. As for the Navy's history of transitioning out of programs, Morely said, "We don't do it very well."
But with the fleet so dependent on the F/A-18 for strike and electronic attack and its replacement still several years away, Morely warned that the program is running into challenges of sustainment, service life extension, cost control and transitioning out of production.
"We can't afford to let the Hornet break," Morely said. "We got a lot of stuff we got to do."