Trump Calls for 6th Branch — Space Force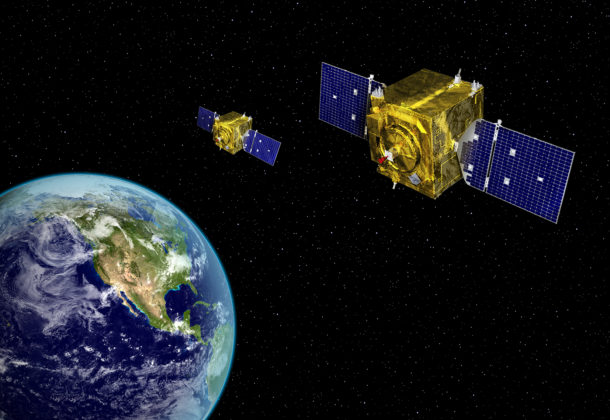 Morning Coffee is a robust blend of links to news around the internet concerning the Naval Air Station Patuxent River

economic community. The opinions expressed here do not reflect opinions of the Leader's owners or staff.
President Donald Trump directs DoD to establish a military space force, reports CBS News, to ensure US dominance on the high frontier. Military.com says major legislation is required to create a sixth branch of the military, which could take years to pass.
GOP Governor Charlie Baker reversed plans to send a Massachusetts National Guard helicopter and crew to US-Mexico border, calling the policy of separating children from their parents as "cruel and inhumane," reports Military Times. "So we won't be supporting that initiative unless they change their policy," Baker said.
Congressional Republicans beat a full-scale retreat from the administration's zero-tolerance border policy, reports The Washington Times, joining Democrats to demand the Trump administration find ways to keep families together while trying to stop a new surge of illegal immigration.
The ongoing debate over immigration now threatens Afghan interpreters who face new trouble seeking US visas, reports Mcclatchydc.com. A special visa program allows Afghans who face threats for their support of the US war effort to apply for refuge in the United States, but must be renewed for fiscal 2019 beginning Oct. 1, 2018.
DoD's May ban on use of all commercial off-the-shelf drones grounds Marines "Eyes in the Sky" drones over cyber security concerns, reports USNI. The Department of Defense issued a ban last month on the purchase and use of all commercial off-the-shelf drones until the Pentagon develops a plan to mitigate security risks. SUAS News obtained a copy of the May 23 memo.
Marines despise the M4 Carbine that replaced the M16A4 as the corps' standard service rifle, reports We Are The Mighty.
Former CIA employee Joshua Schulte charged with leaking classified "Vault 7" documents, which revealed the CIA's ability to hack into a wide range of electronic devices, reports UPI. He is also charged with possessing child pornography.
South Korea and the US canceled a major military exercise planned for August, reports Yonhap News Agency, to fulfill one of Trump's promises to North Korea from last week's summit, explains Military Times.
A report out of the Mitchell Institute for Aerospace Studies finds the Air Force should make greater use of contractors to bolster its pilot training capabilities as it works to fix its festering pilot shortfall once and for all, reports Air Force Times. The report finds reviving the long-defunct warrant officer program would do nothing to fix the shortage of pilots, and Air Force leaders should reject the idea.
Gulf and Asian allies consider big purchases of Russia arms could find the US Senate ready to slap  sanctions on them for cozying up with Moscow, reports Breaking Defense. DefSec Jim Mattis asked Congress for more flexibility in how to apply those sanctions.
USNI News Fleet and Marine Tracker for June 18, 2018.
Contracts:
Lukos-VATC JV III LLC, Tampa, Florida (W900KK-18-D-0021); Calhoun International LLC, Tampa, Florida (W900KK-18-D-0022); Applied Training Solutions LLC, Falls Church, Virginia (W900KK-18-D-0023); Engineering & Computer Simulations Inc., Orlando, Florida (W900KK-18-D-0024); Trideum Corp., Huntsville, Alabama (W900KK-18-D-0025); Pulau Corp, Orlando, Florida (W900KK-18-D-0026); Raytheon Co., Orlando, Florida (W900KK-18-D-0027); and PAE National Security Solutions LLC, Fredericksburg, Virginia (W900KK-18-D-0028) will compete for each order of the $2,400,000,000 firm-fixed-price contract to provide and manage training and training assistance for military and civilian related subjects in a contingency operations, provide planning, and support for Army, joint, and security cooperation exercises and perform operations and maintenance sustainment functions for training aids, devices, and ranges. Bids were solicited via the Internet with 42 received. Work locations and funding will be determined with each order, with an estimated completion date of June 18, 2023. US Army Contracting Command, Orlando, Florida, is the contracting activity.
BAE Systems Norfolk Ship Repair, Norfolk, Virginia, is being awarded an $11,730,561 firm-fixed-price modification to previously awarded contract (N00024-18-C-4438) to exercise options for the execution of USS Cole (DDG 67) fiscal 2018 extended dry-docking selected restricted availability. Work will be performed in Norfolk, Virginia, and is expected to be completed by July 2019. Fiscal 2018 defense-wide procurement funding in the amount of $11,730,561 will be obligated at time of award and will not expire at the end of the current fiscal year. The Naval Sea Systems Command, Washington, District of Columbia, is the contracting activity.
Metron Inc., Reston, Virginia, is awarded an $8,005,240 cost-plus-fixed-fee contract for an effort titled advanced modular payloads for unmanned undersea vehicles (UUVs).  This contract contains options, which if exercised, will bring the contract value to $21,091,313. Work will be performed in Reston, Virginia, and work is expected to be completed Dec. 31, 2019. Fiscal 2017 research, development, test and evaluation (defense) funds in the amount of $2,730,000; and fiscal 2018 research, development, test and evaluation (Navy) funds in the amount of $35,000 will be obligated at the time of award. Funds in the amount of $4,730,000 will expire at the end of the current fiscal year. This contract was competitively procured under Office of Naval Research long range broad agency announcement (BAA) N00014-18-S-B001, dated Sept. 29, 2017. Since proposals will be received throughout the year under the long range BAA, the number of proposals received in response to the solicitation is unknown.  The Office of Naval Research, Arlington, Virginia, is the contracting activity (N00014-18-C-2015).