Tobacco Cessation Classes Start Soon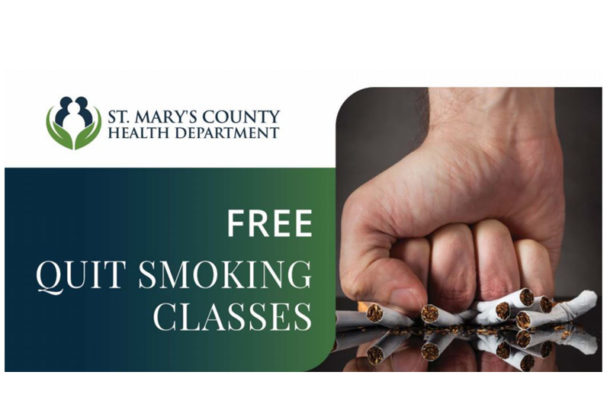 The St. Mary's County Health Department offers free tobacco cessation classes and the next round will begin soon. The classes are being promoted by the Tobacco-Free Living Action Team, a part of the Healthy St. Mary's Partnership, supported by MedStar St. Mary's Hospital in Leonardtown.
Classes meet for one hour a week for eight weeks. The next session will be held from Jan. 16 to March 6, 2018, from 6 to 7 pm at the St. Mary's County Health Department at 21580 Peabody St. in Leonardtown; or from Jan. 10 to Feb. 28, 2018, from noon to 1 pm at the Lexington Park Department of Social Services.
Dates are subject to change due to participation.
The classes are paid for by the Maryland Cigarette Restitution Fund.
These tobacco cessation classes provide group support and understanding for those who are trying to quit. They are an important part of the quitting process.
Participants in the class will learn about the smoking habit and how to beat it. Instructors will teach behavioral modifications, stress managements, and many other techniques to help quit.
Participants also receive free aids to stop smoking, including patches, lozenges, gum, and prescriptions if needed. For those who cannot attend a class in person, Maryland also offers the Maryland Quit Line for phone-based coaching any time of the day or night at 1-800-QUIT-NOW.
To enroll in the local classes, call today at 301-475-4330.
The Tobacco-Free Living Action Team of the Healthy St. Mary's Partnership is dedicated to improving tobacco-related health outcomes in St. Mary's County. Partners are now collaborating to implement evidence-based strategies that support local tobacco-free living. The team's meetings are open to all community members. Click here for more information.
For more information and one-click access to a full list of resources available at MedStar St. Mary's Hospital, visit its Leader Page.