Talons Get to Semi-Finals at World Championship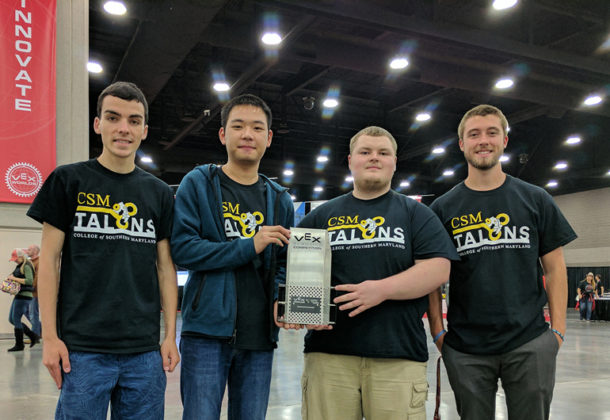 CSM Talons, from left, Edward Gesser, Wen Xing Lin, and team captain George Jenkins celebrate the team's performance at the VEX-U World Championship in Kentucky, along with Dillon Mandley, from the CSM2 Talons team.
For the College of Southern Maryland Talons, 2017 is the best year ever.
In April, the Talons – CSM's robotics team – competed in the VEX-U World Championship in Louisville, Kentucky. This was the fourth year the team qualified for the international competition, and the team competed against 61 other qualifying university teams from all over the world – 40 countries in all.
This was the Talons' best showing ever. The team made it all the way to the semi-finals and then walked away with its division's Innovate award, which recognizes the team with the most innovative design features on its robot.
"I am ecstatic that our team was able to perform so well during our season this year," said team member Edward Gesser III of Mechanicsville.
The record-breaking season for the Talons required incredible commitment and effort from members Gesser, Wen Xing Lin of St. Leonard and team captain George Jenkins of La Plata. "The Talons did it with teamwork and a combination of creativity, strategy, attention to detail and, above all, effort — countless hours of sustained effort from a small team of robot builders," said associate professor Bill Luyster, the team coach.
"George was the master strategist, programmer, and carried the day with his amazing driver control skills. Wen Xing and Ed, both of whom had competed in VEX robotics in high school, provided the mechanical design and construction experience. Wen Xing was the master of the simple, elegant design and Daytona 500-fast leader of the pit that could repair any problem in minutes with materials from his ever-present tool kit. Ed used his experience and attention to detail to make every sub-assembly on the robot better and more robust. This is essential because the fast and furious VEX matches are a war of attrition, where the smallest problem marks the end of battle. Together, they made a team," Mr. Luyster said.
Mr. Jenkins said winning the Innovate award was particularly satisfying. "Our submission was on the camera we used to track objects, which allowed us to autonomously line up to hang our robot on a pole at the end of matches for a point bonus," he said. "We were competing against 61 other college teams who were the best in the world so coming away with a major award like this is a huge accomplishment.
"I believe that our success can be attributed to our team's dedication to robotics and the amount of sheer effort that we put into designing, building, and testing our robots," Mr. Gesser said. "We put so much time and thought into the programming and construction of our robots that it's wonderful to see our hard work pay off. I have been participating in the VEX Robotics Competition for five years, but I have never been to VEX Worlds before. Having the opportunity to help bring the CSM Talons to be so successful in such a high-caliber competition is something I'll always remember."
"The CSM Talons is the biggest reason I chose to attend CSM," Mr. Lin said.
Mr. Jenkins said the team members balanced their academic studies with their commitment to the Talons.
"Our team GPA is almost a 4.0 so we spend a lot of time studying, but robotics has taken up a lot of our time the past year," he said. "We have regular Friday meetings but have been working at least two additional days per week in order to be prepared for our competitions."
Talons faculty adviser Ronda Jacobs described the team's last-minute work to prepare and how it made a difference. "We had a great group of students make it to the World Championship. They were constantly strategizing the game, the robots, different design features … they never stopped thinking through options," Ms. Jacobs said. "The team took one robot to [a] West Virginia tournament, a tournament in which they won. After coming back, they started working on a second robot, similar in design to the first but much lighter and faster. The trade-off was that the second robot couldn't do as much as the first but what it could to, it did faster: gather game elements and send multiple game elements over a fence. For a game based on points, this was essential. … By always thinking ahead, this team made it farther in the championship than any CSM robotics team before."
Mr. Jenkins and Mr. Lin are both graduating CSM this spring. Mr. Gesser will be back to be on the Talons next year, in addition to Dillon Mandley, who is a member of a second CSM Talons team and who traveled to the world championship with the three competitors.
For more about the results from the VEX-U World Championship, visit the VEX website.
For more about the College of Southern Maryland, visit its Leader member page.