T-45 Training Grounded Indefinitely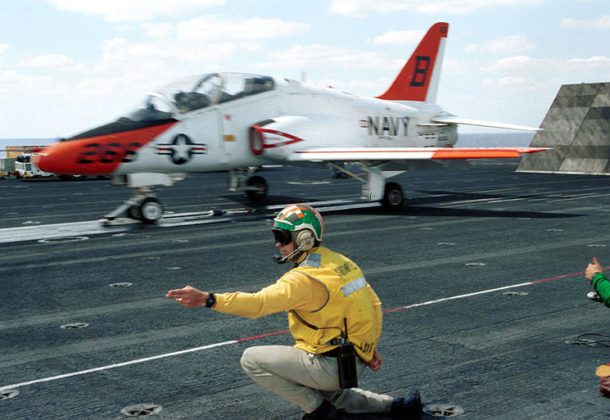 Morning Coffee is a robust blend of links to news around the Internet concerning the Naval Air Station Patuxent River

economic community. The opinions expressed here do not reflect opinions of the Leader's owners or staff.
The Navy has extended the grounding of all of its T-45 training jets indefinitely after a group of instructor pilots refused to fly the aircraft, Navy Times reports. The service's engineers need to figure out what's causing a spike in dangerous physical symptoms in pilots brought on by a drop in oxygen in the cockpit.
Delays and problems with the F-35 have done nothing to change the plans to replace the Hornets, ADM Bill Moran said at the Navy League's Sea Air Space symposium at National Harbor, Navy Times reports. "The Navy still plans to procure two squadrons of Boeing's F/A-18 and two squadrons of Lockheed Martin's F-35C variant, which can take off and land on the deck of an aircraft carrier," ADM Moran said.
The head of all US forces in the Pacific canceled planned carrier exercises and port visits in Australia and redirected the Carl Vinson carrier strike group to the waters off the Korean peninsula as the US weighs a series of limited options for dealing with an increasingly dangerous North Korean regime.
Secretary of State Rex Tillerson says the missile strikes against a Syrian air base in retaliation for a chemical weapon attack carries a message for any nation operating outside of international norms, Military Times reports. "If you violate international agreements, if you fail to live up to commitments, if you become a threat to others, at some point a response is likely to be undertaken," Tillerson said. Military officials raised the possibility that Russia might have had a role in the chemical attacks in Syria, Stars and Stripes reports.
The missile strikes have brought much attention to the Tomahawk. The missiles used in last week's strikes have been a key tool in the DoD's arsenal for the last 25 years, Military Times reports. The attack option was crafted in about a day by Central Command, Bloomberg reports.
Several defense contractors — Raytheon, Boeing, Lockheed Martin, Northrop Grumman and General Dynamics — experienced a surge in shares following tomahawk missile strikes late last week, DefenseWorld.net reports.
Lockheed Martin is testing a 60-kilowatt laser weapon that soon will be installed on an Army truck for operational testing against mortars and small drones, World Bulletin reports. The weapon can take out a drone from 500 yards by keeping its beam locked onto the target for a few seconds.
How much firepower can fit on the Navy's smallest warship asks Breaking Defense? With the Chinese and Russian navies on the rise, US admirals want more "distributed lethality" from everything in the fleet, especially the controversial Littoral Combat Ship.
C4IRSNET reports that unmanned aircraft will be a major component of the Marine Corps' electronic warfare strategy. The USMC recently released its 2017 Aviation Plan.
A 20-person crew from Naval Air Station Jacksonville is conducting international search and rescue operations at the request of the Republic of Korea. The ship, Stella Daisy, departed Brazil on March 26, and is believed to have sunk in the south Atlantic Ocean with 22 crew members unaccounted for, DVIDS reports.
Contracts:
Lockheed Martin Corp., Lockheed Martin Aeronautics Co., Fort Worth, Texas, is being awarded $372,918,148 for modification P00019 to the previously awarded low-rate initial production Lot 10 F-35 Lightning II advance acquisition contract (N00019-15-C-0003). This modification provides the procurement of F-35A and F-35B variant aircrafts including deficiency corrections for non-US Department of Defense (non-U.S. DoD) participants. Work will be performed in Fort Worth, Texas (30 percent); El Segundo, California (25 percent); Warton, United Kingdom (20 percent); Orlando, Florida (10 percent); Nashua, New Hampshire (5 percent); Nagoya, Japan (5 percent); and Baltimore, Maryland (5 percent), and is expected to be completed in March 2020. Non-DoD participant funding in the amount of $105,000,000 is being obligated at time of award, none of which will expire at the end of the current fiscal year. The Naval Air Systems Command, Patuxent River, Maryland, is the contracting activity.
CB&I Federal Services LLC, Alexandria, Virginia, is being awarded $7,995,410 for firm-fixed-price task order 0007 under a previously awarded multiple award construction contract (N39430-15-D-1632) for cleaning, inspecting, and repairing five fuel tanks at the Puget Sound Manchester Fuel Department. The work to be performed provides for the cleaning, out of service inspection, and repair of petroleum, oils and lubricant storage tanks 17, 26, 33, 149, and 181. Work will be performed in Manchester, Washington, and is expected to be completed by September 2018. Fiscal 2017 defense working capital contract funds in the amount of $7,995,410 are obligated on this award and will not expire at the end of the current fiscal year. Two proposals were received for this task order. The Naval Facilities Engineering and Expeditionary Warfare Center, Port Hueneme, California, is the contracting activity.  
Alion Science and Technology Corp., Burr Ridge, Illinois (W15QKN-17-D-0030); Booz Allen Hamilton Inc., McLean, Virginia (W15QKN-17-D-0031); Deloitte Consulting LLP, Arlington, Virginia (W15QKN-17-D-0032); Engility Corp., Chantilly, Virginia (W15QKN-17-D-0033); Leidos Innovations Corp., Gaithersburg, Maryland (W15QKN-17-D-0034); The MIL Corp., Bowie, Maryland (W15QKN-17-D-0035); Sabre-DCS-I3 JV (SDI), Warrington, Pennsylvania (W15QKN-17-D-0036); and URS Federal Services Inc., Germantown, Maryland (W15QKN-17-D-0037), will share in a $495,737,308 firm-fixed-price contract for program and systems support services, including project, program and portfolio management; business, cost estimating and financial management; life cycle logistics; systems engineering; business improvement; business analytics; modeling and simulation management; test and evaluation; information technology; facilitation, education and training; technical editor, writing and illustration; and physical security operations. Bids were solicited via the Internet with 23 received. Work locations and funding will be determined with each order, with an estimated completion date of April 15, 2022. US Army Contracting Command, Picatinny Arsenal, New Jersey, is the contracting activity.