SpaceX Hits Landing on Drone Ship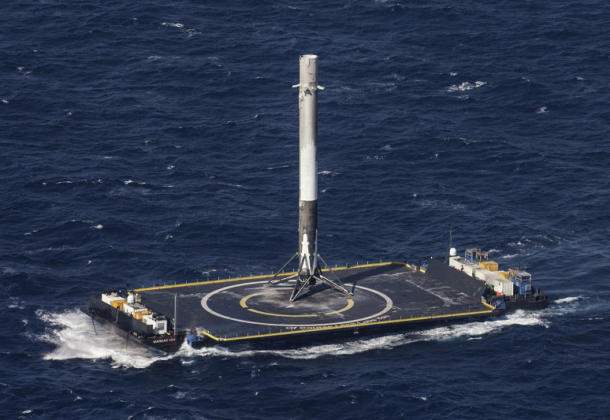 Morning Coffee is a robust blend of links to news around the internet concerning the Naval Air Station Patuxent River

economic community. The opinions expressed here do not reflect opinions of the Leader's owners or staff.
SpaceX landed vertically one of its Falcon 9 rockets on a drone ship in the Atlantic Ocean last week, Motley Fool reports. Check out the video here. This came after the company launched a Dragon spacecraft to low Earth orbit to deliver cargo to the International Space Station for NASA.
International Business Times reports that a Chinese military aircraft made the first public landing on a disputed island in the South China Sea. The landing is raising concerns that Beijing could base fighter jets there.
A buildup of smaller, less destructive nuclear weapons by the US, Russia, and China could revive a Cold War-era arms race and unsettle the balance of destructive force among the nations that has kept the nuclear peace for more than a half-century, The New York Times reports.
The Washington Post reports that US Special Operations forces are deployed around the world — and have been since 9/11 — in an attempt to shore up US allies embroiled in their own conflicts.
During a trip to the Middle East, DefSec Ash Carter said  the US is looking to identify ways to intensify the fight against Islamic State militants in Iraq and Syria, Military Times reports. That could include more airstrikes, cyberattacks, and troops on the ground.
USA Today reports that the US-led coalition is hitting ISIS where it hurts — in its pocketbook. Fifteen air strikes have been carried out against cash depots and more than 125 attacks on oil infrastructure over the past six months. "We've been able to identify and strike strategic targets that place increased pressure on their ability to recruit and sustain operations," Air Force Lt. Gen. Charles Brown said.
A report presented last week to US lawmakers says the bombings in Brussels leave no doubt that the threat ISIS poses to the West is far greater than anticipated. The potential for an ISIS-directed attack in the US is real, The Commercial Appeal reports.
Military hackers are disrupting ISIS's encrypted chats, implanting viruses in terrorists' computers, and mining the machines to launch real-world strikes, The Daily Beast reports.
New York is eyeing legislation that targets people who seek to profit from false claims of military service, Military Times reports. The bill would make such stolen valor a felony.
On the lighter news front, The Monterey (Calif.) County Herald featured a couple who came together over their love of cycling. Scott and Katy Giles met while they were stationed at Patuxent River Naval Air Station 15 years ago. Scott was an aircraft carrier support pilot, Katy a naval flight officer.