SMECO Notes ENERGY STAR Priorities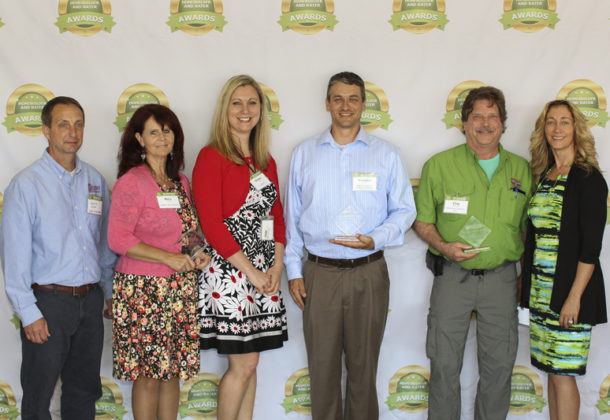 Pictured are representatives of the businesses that received recognition at a ceremony held recently to honor SMECO's ENERGY STAR New Homes program participants. From left, Charlie Russell and Mary Chaney of Quality Built Homes; Stacey Hill of SMECO; Brendon Roark of Nation's Capital Energy Solutions; Chip Cousineau of American Dreams; and Jennifer Raley of SMECO.
Three companies have been honored by Southern Maryland Electric Cooperative because of their outstanding achievements in building hundreds of ENERGY STAR-certified new homes in Southern Maryland in the past year.
American Dreams Inc., Quality Built Homes, and Nation's Capital Energy Solutions were recognized.
"SMECO has created a network of partnerships with local businesses that include cost-effective and reliable methods of reducing energy use in the homes they build. Builders who construct ENERGY STAR-certified new homes and heating and cooling contractors that install upgraded systems provide our customer-members with improved efficiency and comfort," said Jennifer Raley, an energy and technology programs manager at SMECO. "SMECO has presented these awards to three companies that have helped to make the co-op's partnership initiatives with the community successful."
American Dreams Inc. received SMECO's award for Most Energy Efficient Home of the Year. The Charles County home, built in Newburg, saves 8.11 megawatt-hours (MWh) per year compared to a home built to standard construction codes, according to a certified ENERGY STAR rater. The savings in energy translate to more than $650 in annual savings in costs for the home owner.
The co-op named Quality Built Homes, or QBH, the New Homes Program Builder Partner of the Year for the second consecutive year.
"QBH completed more than 140 homes in 2016, saving SMECO more than 408 MWh. As a participant of the New Homes Program since its launch, QBH is a strong advocate for energy-saving programs," Ms. Raley said. "QBH is one of the largest regional builders in Southern Maryland, and SMECO appreciates its leadership in energy-efficiency initiatives."
SMECO gave the New Homes Program Rating Partner of the Year award to Nation's Capital Energy Solutions, a company that has been active in SMECO energy-efficiency programs since 2011.
"They submitted 22 homes with an average energy savings of 6.6 MWh — that's nearly triple the year's average energy savings for the program. SMECO recognizes Nation's Capital Energy Solutions as a valued rating partner," Ms. Raley said.
"A new home is a significant long-term investment, and our customer-members deserve comfort and value that last," she said. "In today's economy, energy efficiency is important to homebuyers. Using less energy means saving money every month. Ultimately, ENERGY STAR-certified new homes offer more comfort and savings per square foot."
New homes that are built with ENERGY STAR certification have all the features people want in their dream homes, but their energy-efficient upgrades deliver better performance and year-round energy and cost savings. Through financial incentives, training, marketing, and technical support, the SMECO ENERGY STAR New Homes Program encourages builders to build high-performance homes that are at least 15 percent more energy efficient than those built to Maryland building codes. In fact, the homes usually include energy-saving features that make them 20 to 30 percent more efficient than standard homes. Last year, more than 650 ENERGY STAR-certified new homes were built in SMECO's service area, saving more than 1,500 MWh of electricity.
To learn more about SMECO, visit its Leader member page.