Semper Fi, But Not With A Smart Phone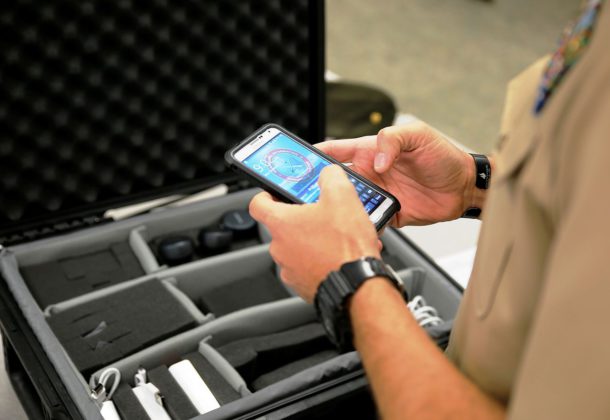 Morning Coffee is a robust blend of links to news around the Internet concerning the Naval Air Station Patuxent River

economic community. The opinions expressed here do not reflect opinions of the Leader's owners or staff.
US field HQs have grown into notoriously large targets. As cheap drones and other surveillance technologies spread worldwide, said Gen. Robert Neller, US forces must re-learn how to hide — both physically and electronically — from increasingly tech-savvy adversaries, Breaking Defense reports. Turn off those cellphones, he tells the grunts.
A plan that establishes the Pentagon as the IT provider for a civilian agency could be a model for future efforts, reports FCW. DoD is slated to provide key IT infrastructure and services for the Office of Personnel Management's National Background Investigations Bureau — the agency created in the wake of massive data breaches and other troubles involving background checks. Speaking at FCW's Aug. 10 Cloud Summit, DoD CIO Terry Halvorsen said such partnerships within the federal space should be the norm, not the exception. Halvorsen's remarks came the day after his top deputy was selected as the new OPM CIO.
US-backed Libyan militias say they have taken over ISIS' headquarters in Sirte, the militants' final bastion in Libya, The Associated Press reports. The fighters said Wednesday they had seized control of the sprawling convention center that was used as ISIS' headquarters in the coastal city. The Pentagon acknowledged Wednesday that a "small number" of US forces are going in and out of Libya in support of an expanded air war against the Islamic State in Iraq and Syria, The Hill reports. Those forces are based in joint operations rooms, away from the forward line, to facilitate coordination among Libyan forces fighting ISIS, said Deputy Defense press secretary Gordon Trowbridge.
DefenceTalk reports the US has approved the possible sale to Saudi Arabia of up to 153 tanks, hundreds of machine guns, and other military gear in a deal worth $1.15 billion, the Pentagon said Tuesday.
Air Force Secretary Deborah Lee James warned Wednesday that a continuing resolution would trigger a negative ripple effect among as many as 60 of the service's programs, Defense News reports. Among the programs that could be hurt are needed upgrades to the MQ-9 Reaper unmanned system, C-130 cargo transport, and the B-52 and B-2 bomber fleets. Military construction — including needed upgrades at bases where the F-35A Joint Strike Fighter will operate from — also would be cut. Also imperiled would be Boeing's KC-46A Pegasus tanker contract, Secretary James said.
The Air Force wants to nearly double pilots' retention bonuses to $48,000 per year — and this means some pilots could net themselves a whopping $432,000 if they stay in the service, Air Force Times reports. The Air Force has previously said it wants to increase its Aviator Retention Pay, which has been capped at $25,000 per year since 1999, to help stave off an exodus of its best fighter pilots for better-paying jobs at private airlines. The problem is growing especially acute as airlines see more and more of their Vietnam-era pilots retire. Those airline pilots must be replaced with pilots who have at least 1,500 flight hours, which makes the military fertile recruiting ground for commercial airlines, which can offer much larger paychecks than the military.
Marine Corps Recruiting Command is looking to buy new state-of-the-art flight simulators in order to inspire young people to consider aviation careers, Marine Corps Times reports.  Marine leaders want to send 22 simulators to recruiting offices around the country that will put even the best gaming experience to shame. The corps plans to purchase five fully enclosed, 3-axis motion flight simulators that would replicate the cockpits of the F-35B JSF, F/A-18C Hornet, MV-22 Osprey, and AH-1Z Viper.
Breaking Defense reporter Sydney J. Freedberg Jr. recounts his experience in a Pax River simulator in which he "landed" a Super Hornet with the help of Magic Carpet software, which improves pilot accuracy and safety dramatically, and then without it.  Freedberg will be keeping his day job but his account of the experience offers compelling details about this technological advancement.
Drone delivery: If Amazon's drone program succeeds (and Amazon says it is well on track), it could fundamentally alter the company's cost structure. A decade from now, drones would reduce the unit cost of each Amazon delivery by about half, analysts at Deutsche Bank projected in a recent research report. If that happens, the economic threat to competitors would be punishing — "retail stores would cease to exist," Deutsche's analysts suggested, and we would live in a world more like that of "The Jetsons" than our own, writes Farad Manjoo in The New York Times.