Scouts Get Merit Badge Training at CSM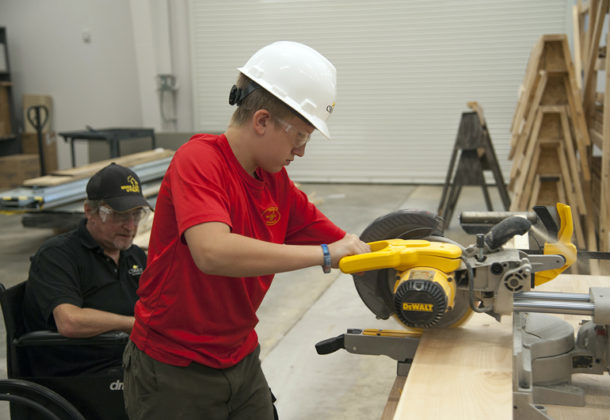 Scott Sokoloff, 13, of Great Mills uses a circular saw to cut wood for a box built by Boy Scouts Troop 413 at CSM's Center for Trade and Energy Training at the Regional Hughesville Campus.
Boy Scout Troop 413 and Girl Scout Troop 4998 of St. Mary's County recently visited College of Southern Maryland for help and guidance from faculty in earning their Electricity and Carpentry badges at the Regional Hughesville Campus. The Scouts' achievement followed a similar opportunity offered by CSM to Girl Scout troops in Charles and Calvert counties to earn their Automotive Maintenance badges.
CSM instructors at the Regional Hughesville Campus provided materials and hands-on lessons for a number of projects to help the Scouts from the Great Mills area as they worked to build a rheostat – which controls a current by varying electrical resistance –  and assemble an electromagnet. The Scouts also worked in CSM's Carpentry lab to build wooden boxes.
"They built everything right here in our shops and then demonstrated them," said CSM Director of the Center for Trades and Energy Training Bruce Posey, who organized the opportunity to earn merit badges. "The Scouts seemed to enjoy everything and so did we. It was very rewarding."
The Scouts said the same thing.
"I learned about everyday things that are essential in everyday life," said Scout Kaitlyn Sokoloff, 15, of Great Mills.
"I don't know what I want to do when I grow up, so learning this and earning my merit badges helps me learn more about my choices," said Kaitlyn's brother Scott Sokoloff, 13.
The college has also helped Girl Scouts from Charles and Calvert counties who worked for their Automotive Maintenance it merit badge earlier this year. Manager and Master Trainer of CSM's Driver Education Program Mike Whelan trained more than 20 Scouts on basics that all current and future drivers should know, like vehicle fluids, identification, their purpose and how to check them; checking tire pressure; different kinds of oil and how to change it; control and information symbols and what they mean; and how to change windshield wipers.
Mr. Whelan also shared winter driving tips, facts and statistics for teen drivers and videos that support safe driving, like not texting and driving and seat belt use. His training program takes about four hours.
"I enjoy teaching, and I feel it is necessary to get the word out about safe driving as well as teach car maintenance," Mr. Whelan said. "I never like to pass up an opportunity."
Scouting leaders who want to learn more about Whelan's Automotive Maintenance merit badge training or CSM's driver education program can contact him at 301-539-4722 or mikew@csmd.edu. For information about training and programs available at the Regional Hughesville Campus, contact Posey at 301-539-4733 or bposey@csmd.edu.
For more about the College of Southern Maryland, visit its Leader member page.