Pedestrian Safety Initiative Hits Great Mills Road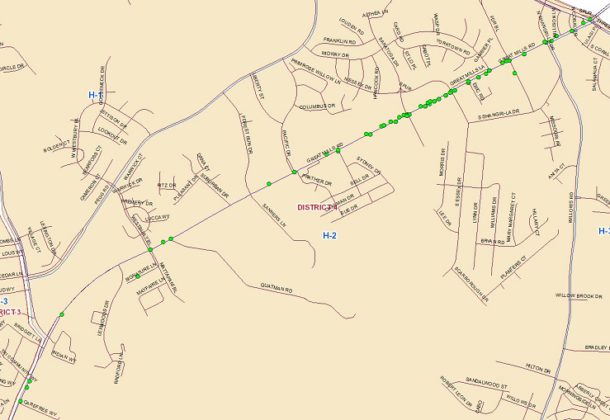 A number of pedestrians cross Route 246 — Great Mills Road — in Lexington Park on a daily basis. However, according to the St. Mary's County Sheriff's Department, all too many of them do so in an unsafe manner.
Recently, the Lexington Park Community Oriented Policing Unit (COPs), in partnership with the Maryland Department of Transportation, conducted a pedestrian safety initiative, in an effort to increase awareness of traffic safety regulations. The initiative, which included both educational and enforcement aspects, served as a reminder that safety is the responsibility of pedestrians as well as drivers.
All pedestrians are subject to traffic safety regulations. They are required to use crosswalks, if they are present. If there is no convenient crosswalk, pedestrians may still cross, so long as that crossing does not impede the flow of vehicular traffic. For example, it is illegal to stand in a middle turn lane to wait for traffic to pass, police said.
According to TA 21-503, the minimum fine for failing to cross at an intersection with a signal is $50. In addition to the fine, pedestrians outside of a crosswalk who fail to yield the right of way to a vehicle are issued a written warning, counseled on the violation, and receive a Maryland Highway Safety Office educational pamphlet. Repeat offenders are subject to a maximum fine of $500.
During the six-month initiative, members of the COP Unit stopped 213 pedestrians for infractions of traffic safety regulations, including crossing in an unsafe manner, and failure to yield the right of way to a vehicle. To encourage compliance with regulations, officers waived fines for first-time offenders. Instead, they issued pedestrian safety pamphlets, along with written warnings. Citations were only issued to repeat offenders. Over the course of the initiative, eight pedestrians were repeat offenders, yielding an effectiveness rate of 96 percent for this particular initiative.
Maryland State Highway Administration will analyze the data gathered during this initiative to determine whether additional crosswalks in that area might prove beneficial. Officers also request that motorists be mindful of pedestrians in the area, and obey posted speed limits.
The speed limit on Great Mills Road from Gate 2 of NAS Patuxent River to Forest Run Road is 35 mph. From Forest Run Road to Route 5, the speed limit is 40 mph.
Lexington Park news is SPONSORED BY