Pax Hosts New Round of F-35 Ski-Ramp Tests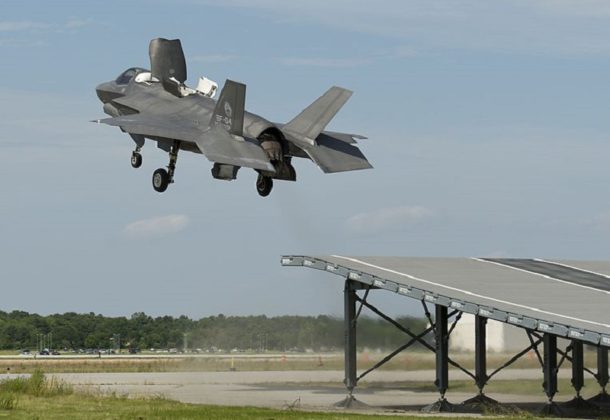 Morning Coffee is a robust blend of links to news around the Internet concerning the Naval Air Station Patuxent River

economic community. The opinions expressed here do not reflect opinions of the Leader's owners or staff.
The F-35 Lightning II Pax River Integrated Test Force has begun a second round of F-35B ski-ramp testing at NAS Pax River, IHS Jane's 360 reports. This comes ahead of next year's First of Class Flight Trials on the UK Royal Navy carrier HMS Queen Elizabeth.
The USS Gerald R. Ford is manned and ready. On Saturday, the state-of-the-art aircraft carrier was commissioned in Norfolk, Virginia, reports Military Times. President Donald Trump said the ship will send a "100,000-ton message to the world" about America's military might. America's enemies will "shake with fear" when they see the Ford cutting across the horizon, he said.
The new carrier has all sorts of high-tech gear equipped for 21st-century naval warfare, Navy Times reports. But the one thing missing on the brand-new Ford: urinals. The urinals have been replaced with flush toilets and stalls.
The aircraft carrier USS Harry S. Truman left Norfolk Naval Shipyard last weekend and headed straight for open water in the Atlantic Ocean for sea trials, Navy Times reports. Work began last fall to upgrade the ship's communications and information technology networks. The Navy said the No. 1 goal for the ship over the past year was making it better than when it arrived.
Chief of Naval Operations ADM John Richardson told those gathered at the Office of Naval Research's Science and Technology Expo that the current trajectory of his shipbuilding program gets the Navy to 355 ships sometime in the late 2030s, Defense News reports. The Navy is going to look to increase its networking between platforms and systems as a way of gaining an advantage over the potential adversaries more quickly, he said.
The Army Research Laboratory is developing a tilt-rotor drone that can hover like a helicopter but then reorient its motors to fly through the air like a fixed-wing aircraft, Defense Systems reports. If that sounds like a V-22 Osprey, it is, with a small difference. An Osprey is 57 feet long while the experimental drone measures 10 inches.
A Chinese navy spy ship was seen near waters where a joint military exercise between US and Australian forces was being conducted Saturday, South China Morning Post reports. An Australian official said the move was "provocative" and sent an unfriendly message. The South China newspaper also says China has started commercial production of drones for overseas users, and it could be a rival to US MQ-9 Reapers.
Russia and China are scheduled to hold a joint naval drill, "Joint Sea," in the Baltic Sea this week, Deutsche Welle reports.
F-22 Raptor fighter jets joined combat air forces from across the nation for the joint, full-spectrum readiness exercise Red Flag 17-3, DoD reports. Ten F-22s from the 95th Fighter Squadron participated alongside Marine Corps F-35B and Air Force F-35A Lightning II joint strike fighters. This is a first in Red Flag history as both variants of F-35 took part in the exercise.
Turkey is part of the nine-nation consortium producing the F-35 JSF, which gives that country access to the F-35's technology. Commentary magazine asks: Can Turkey be Trusted with F-35s?
Decision Zone has engineered a new data bus security technology, which the company claims can quickly detect and defend against malicious intrusions, Defense Systems reports. The private company is now in the process of offering the technology to the US military.
Contracts:
Engility Corp., Andover, Massachusetts, is being awarded $30,661,981 for modification P00030 to a previously awarded cost-plus-fixed-fee, cost-reimbursable contract (N00421-16-C-0048) to exercise an option for engineering and technical services in support of the Navy and the governments of Australia, Japan, Saudi Arabia, Norway, Spain, and Denmark. Services to be provided include systems engineering management, air/ship integration, systems safety, mass properties, survivability, manufacturing and quality, reliability and maintainability, electromagnetic environmental effects, anti-tamper, and mission engineering and interoperability. These efforts are focused across a broad business base comprised of integrated program teams, externally directed teams and enterprise teams, which support all Naval Air programs. Work will be performed at the Naval Air Station (NAS) Patuxent River, Maryland (98 percent); NAS Jacksonville, Florida (1.4 percent); and the Marine Corps Air Station Cherry Point, North Carolina (.6 percent), and is expected to be complete by April 2018. Fiscal 2017 research, development, test and evaluation; 2017 aircraft procurement (Navy); 2017 weapons procurement (Navy); 2017 operations and maintenance (Navy); 2017 working capital funds (Navy); 2017 procurement of ammunition (Navy and Marine Corps); and foreign military sales funds in the amount of $13,226,808 are being obligated at time of award, $695,144 of which will expire at the end of the current fiscal year. This contract combines purchase for the Navy ($29,772,784; 97.10 percent); and the governments of Japan ($407,804; 1.33 percent); Australia ($265,839; 0.867 percent); Saudi Arabia ($107,317; 0.35 percent); Denmark ($76,655; 0.25 percent); Norway ($22,383; 0.073 percent); and Spain ($9,199; 0.03 percent); and under the Foreign Military Sales program. The Naval Air Warfare Center Aircraft Division, Patuxent River, Maryland, is the contracting activity.
Lockheed Martin Rotary and Mission Systems, Manassas, Virginia, is being awarded a $119,651,946 cost-plus-incentive-fee and cost-only modification to a previously awarded contract (N00024-09-C-6247) to exercise an option for engineering services and support of the Integrated Submarine Imaging Systems program. The Integrated Submarine Imaging System provides visual and other capabilities for Navy submarines. Services will include design, development, testing, reverse engineering, technology insertion/refreshment, engineering services, field engineering services, and system support. Work will be performed in Manassas, Virginia (50 percent); Syracuse, New York (25 percent); Virginia Beach, Virginia (15 percent); Northampton, Massachusetts (5 percent); Arlington, Virginia (2 percent); Fairfax, Virginia (2 percent); and Newport, Rhode Island (1 percent), and is expected to be completed by September 2018. Fiscal 2017 other procurement (Navy); 2013, 2014, 2016, and 2017 shipbuilding and conversion (Navy); and 2017 research, development, test and evaluation funds in the amount of $27,924,393 will be obligated at time of award and will not expire at the end of the current fiscal year. The Naval Sea Systems Command, Washington, District of Columbia, is the contracting activity.