Patuxent River Naval Air Museum Gets New Display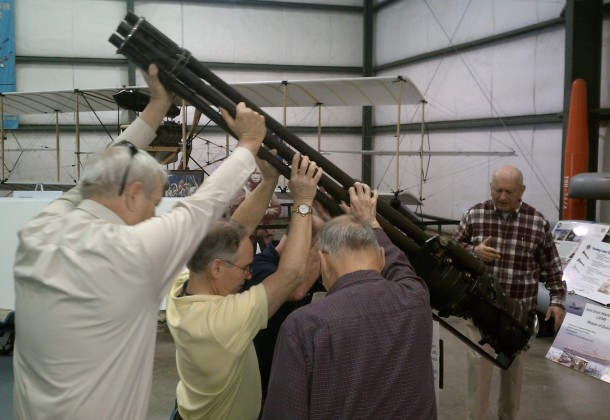 Posted for Patuxent River Naval Air Museum
Off the Map
Space is getting a bit tight these days at the Patuxent River Naval Air Museum, but volunteers and a team from the National Museum of the U.S. Navy managed to squeeze in one more display Tuesday.
The new display was brought to the Pax Museum to accompany the full-size replica Curtis A-1 aircraft now on exhibit at the museum. Both the aircraft and the display were housed at the National Navy Museum last year in celebration of the Centennial of Naval Aviation. The aircraft was constructed by members of the Experimental Aircraft Association.
"We've done a lot of housekeeping, noted George Hurlbert, the museum's treasurer, pointing to the ejection seats, refueling booms and replica bombs that had to be shifted around to accommodate the the new arrival.
Entitled "Naval Aviation Before World War I," the display helps to interpret the events leading up to and surrounding the first flight of the Curtis A-1 off the deck of a U.S. Navy warship to prove that it could be done.
"We're getting this one basically for free," said Dave Seeman, chair of the Pax Museum's exhibit committee. "Were particularly grateful to the EAA for giving us a world class exhibit."
While the A-1 replica and the display are impressive, Seeman emphasized that both need volunteers to help interpret Naval history.
"We welcome and want volunteers to tell the story of what [Naval Air Station Patuxent River] has done," Seeman said. "We need as much volunteer help as we can get. … So many people don't have knowledge of what went on before them."