Three Oaks Kickstarts Help for Homeless Veterans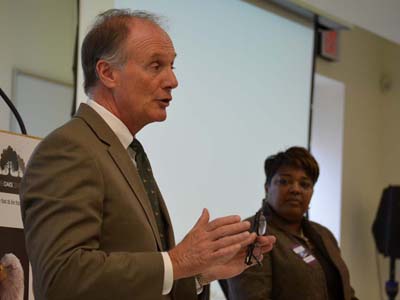 Posted for Three Oaks Center, TSA Inc. and Bob Taylor Engineering
By Jay Friess
Editor
The Three Oaks Center held a Homeless Veterans Forum at the Southern Maryland Higher Education Center in California, Maryland Friday to show the local community how it will make use of a $219,000 grant from the U.S. Department of Veterans Affairs (VA) to help homeless veterans.
The event, moderated by Barbara Ives, drew speakers from the Naval Air Systems Command (NAVAIR) and the Maryland Department of Veterans Affairs. Bob Taylor Engineering sponsored Easter Basket door prizes.
"The stress on these folks is something we all should share," said Vice Adm. David Dunaway, head of NAVAIR. He said veterans often fall through the cracks of the military's benefits system. "Big bureaucracies don't see through to the details. … Thank you for doing what you are doing."
"Four percent of veterans living in our area are living at or below the poverty level," said Lanny Lancaster, Three Oaks' executive director. He estimated that comprises 1,500 households. So far, Three Oaks has identified 83 homeless families of veterans and placed ten of those families in housing. The VA grant will allow the group to place more than 100 families in housing, Mr. Lancaster said.
"Three Oaks Center would never be able to do all of this alone," Mr. Lancaster said, explaining the importance of the VA grant.
Rather than put homeless veterans families through the process of moving from an emergency shelter to a transitional shelter to a subsidized home, Erin Medlicott, a case worker at Three Oaks, said the program is trying to immediately place them in a permanent situation and stabilize the family.
"Together, we can end veteran homelessness by 2025," Ms. Medlicott said.
According to the Maryland VA, the state has achieved a seven percent reduction in veteran homelessness since January 2011.
"Our all-volunteer board welcomes the confidence the VA has in us," said Michael Guy, vice president of the Three Oaks board.
One of the key components of getting veterans back on their feet is finding them employment in a tight job market. Technology Security Associates, Inc. has been re-integrating enlisted warfighters into the workforce with its VETBridge program.
"Making a transition from an infantry unit to an acquisitions command isn't easy," said Tom Jarboe, COO of TSA Inc. "As the military starts to downsize, they're coming back looking for employment. If they can't find employment, they end up in other programs."
Three Oaks board member Donnita Moore said she is planning a Stand Down event next year that will bring homeless veterans together with employers and doctors to help them get back on their feet.
"We are in it together," said Edward Chow, Maryland secretary of veterans affairs. "It takes a partnership of government, community agencies, the business community and families. … I want to work in partnership with you."