NTWA Honors Its Best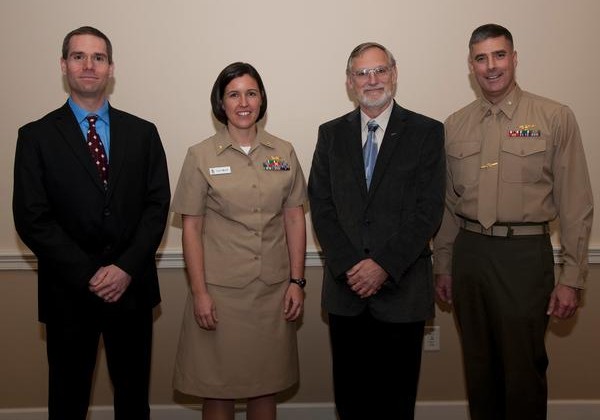 Calling them "richly deserving of recognition," Naval Test Wing Atlantic honored four members of its organization at a Feb. 9 awards luncheon here at the River's Edge Catering and Conference Center.
The organization named Lt. Cmdr. Daniel Radocaj, Test Pilot of the Year; honored Craig Nixon as Test Pilot School Instructor of the Year; selected Lt. Cmdr. Cecily Walsh as Test Naval Flight Officer of the Year; and praised Greg Miller as Flight Test Engineer of the Year.
"We have the privilege of bringing into the test community some of the brightest stars of their respective military and civilian communities," said Marine Col. Roger Cordell, commander of Naval Test Wing Atlantic, which supports the development and acquisition of naval aeronautical and related technology systems. "They relentlessly pursue their tasks without any promise of recognition because it is inherent to their character. These awards allow us to thank them for their dedication, and to highlight their contributions, which we hope will encourage others to follow in their footsteps."
Test Pilot of the Year, Radocaj led a team of 25 engineers, technicians and aircraft maintainers to plan the first aircraft launch from an electromagnetic catapult. After flying the historic first launch in an F/A-18E, he coordinated with multiple organizations to open the envelope to a wide range of aircraft, identifying several previously unknown compatibility issues.
Nixon, the Test Pilot School Instructor of the Year winner, serves as a flight instructor, aircraft monitor, exercise monitor and flight curriculum manager at United States Naval Test Pilot School. As the primary aircraft monitor for the UH-72A, he led a team to design, test, document and install the first flying qualities and performance instrumentation system into a military aircraft certified by the FAA.
Test Naval Flight Officer of the Year, Walsh was the lead flight-test naval flight officer for the P-8A Poseidon program. She led more than 120 personnel in integrated test teams through the initial stages of a rigorous test program at Patuxent River and Seattle. She also wrote four major test plans and executed more than 500 hours of mishap-free ground and flight test events.
Miller, who won Flight Test Engineer of the Year, was recognized for his work with the MH-60S Airborne Mine Neutralization System at Air Test and Evaluation Squadron TWO ONE, or (HX) 2. Officials said Miller's leadership of a multi-organizational team and his technical expertise played a critical role in designing, developing and testing Organic Airborne Mine Countermeasures systems, which required extensive software and hardware integration as well as developmental ground and flight tests.
Jonathan "Sven" Stevenson, Naval Test Wing Atlantic's operations officer, said the four winners are a microcosm of the organization's talent.
[The winners] "represent a small number of the absolute professionals who are conducting tests here at Pax River, but their performance and accomplishments are richly deserving of recognition," Stevenson said. "I wish we could award all our candidates because they are worthy of recognition."
Source: NAWCAD Public Affairs