New College President Shares Freshman Experience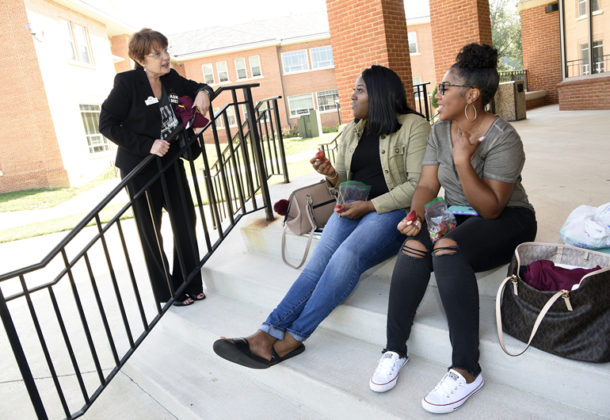 College of Southern Maryland President Dr. Maureen Murphy, left, talks to two freshmen, Shaneaya Lawrence and Alecsis Cooper, both of La Plata, in front of the La Plata Campus library on the first day of classes for the fall semester.
As the fall semester begins, thousands of freshmen converge on all of the campuses of the College of Southern Maryland. The college's new president. Dr. Maureen Murphy, shared that freshman experience during the first week of the 2017 fall semester.
Activities during the first week were welcoming opportunities for both students and Dr. Murphy as the new president went to each campus to meet and greet students.
Campuses in La Plata, Leonardtown, and Prince Frederick were filled with students attending classes, getting their I.D. badges, buying books, and greeting friends during the week of Sept. 5-9, with Dr. Murphy in their midst sharing in the excitement.
"It never gets old," Dr. Murphy said as she gave out ice cream to students at the Prince Frederick Campus. "The beginning of school is always exciting. You get a fresh start every year. This is my first week of a new semester at CSM and I get to see students experiencing CSM for the first time, too. Loads of fun."
Dr. Murphy said she was so excited about starting the fall semester that she was one of the first people on the La Plata Campus on Sept. 5, the first day of classes. "I had to unlock everything in my building," she said.
That day Dr. Murphy stopped by the Student Life welcome table, where staffers gave out free doughnuts and coffee as well as CSM T-shirts. At the College Store, she talked with students who were waiting in line to buy supplies and books, asking about classes and courses of study.
In the library she chatted with students as they waited to have their photo I.D. taken. Whittney Wilson of Waldorf was one of those students in the library. A mother of two, Ms. Wilson is a returning student planning to study communication to prepare for work as an advocate for children with disabilities. "I never would have thought she was the [college] president without her name tag," Wilson said after.
"She's a really involved person to be interested in regular people like me."
The next day, Dr. Murphy visited with students at the Prince Frederick Campus. There, she met Alondra Lopez-Perez of Lexington Park who is completing her last semester at CSM, earning two associate degrees, as she works to transfer and work toward her goal of becoming an orthopedic surgeon.
"She is the caring, lovely and kind person you would like to work with every day," Ms. Lopez-Perez said of her visit with Murphy. "She asked me about my experience at CSM, why I chose the college, and what do I like the most about the college. One of the qualities that really impressed me about her was how caring she is. When talking to her, as soon as she knew that I am from Puerto Rico, she asked how my family was doing because of the Hurricane Irma. [The next day] as soon as she saw me she hugged me and she asked me right away how my family was doing. She really demonstrates that she cares about her students and their unique circumstances."
Dr. Murphy headed to the Leonardtown Campus the following day, where she spoke to members of Maryland's Appropriations Committee who had come from Annapolis to make several stops in St. Mary's County including the briefing from CSM's new leader. After the briefing, she talked with students and staff at the Wellness and Aquatics Center.
Dr. Murphy said her transition to Southern Maryland and the college has been easy.
One reason for that ease is the work she's put in and the welcome she's received during the two months leading up to the first day of the fall semester. She began the job July 1 and her first 11 weeks have been peppered with visits from both state and federal legislators who help CSM with critical funding support, including U.S. Congressman Steny Hoyer (D-Md., 5th) and U.S. Sen. Ben Cardin (D), as well as introductions to state senators and delegates, county commissioners and Maryland Lt. Gov. Boyd Rutherford (R).
"I am confident her years of experience in the community college system will be exceptionally beneficial to CSM," Congressman Hoyer said after their July 6 meeting. "I look forward to working with Dr. Murphy … to build upon the success of former President Dr. Bradley Gottfried and ensure more students have access to quality, affordable higher education in Southern Maryland."
During the summer, Dr. Murphy held listening sessions with employee groups from the different offices at the college. Also, she participated in the CSM Foundation's 26th Annual Golf Classic at the Swan Point Yacht and Country Club on Aug. 10, meeting community and business leaders while being part of an event that raised more than $89,000 toward CSM academic and career training scholarships and the college's athletic programs.
For information on Dr. Murphy and CSM leadership, visit CSM's website.
For more about the College of Southern Maryland, visit its Leader member page.