Navy Reviewing Behavior, Reducing Ranks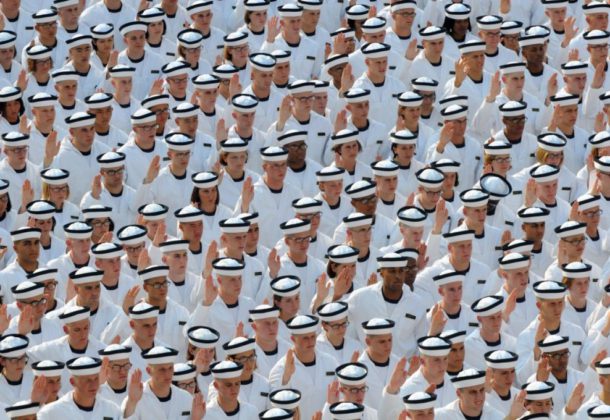 Morning Coffee is a robust blend of links to news around the Internet concerning the Naval Air Station Patuxent River

economic community. The opinions expressed here do not reflect opinions of the Leader's owners or staff.
More than 60 admirals are being looked at in the "Fat Leonard" probe, reports Navy Times. The Navy is reviewing the behavior of 440 active-duty and retired Navy personnel, including 60 current and retired admirals, for possible violations from dealings with Leonard Glenn Francis and his Singapore-based Glenn Defense Marine Asia company. The Navy Times also reports nearly 9,000 chiefs face mandatory retirement, in a Navy effort to clear out senior enlisted sailors who have engaged in misconduct or whose performance has slipped noticeably. The moves clear the path for younger sailors to move up into the chiefs mess.
DefSec James Mattis praises a new hybrid warfare center in Finland, which shares an 830-mile border with Russia and has garnered participation from Estonia, France, Germany, Latvia, Lithuania, Norway, Poland, Spain, Sweden, Britain, and the US, reports The Washington Post. European Union countries and those in the North Atlantic Treaty Organization are able to join.
Politico reports DoD, not FDA, stands to gain the power to approve drugs and medical devices under the defense policy bill that's being hammered out by a conference committee. Congressional health staff are alarmed but lawmakers backing the bill, including House Armed Services Chairman Mac Thornberry (R-TX), say the measure is necessary and even overdue.
During his visit to Japan, President Donald Trump says he is "open" to meeting with the North Korean leader, reports Yonhap News. Military Times reports lines of communication remain open at DMZ separating North and South Korea. "We still pass messages," said a US forces-Korea official, a practice going back decades.
Politico reports the White House seeks another $4 billion to counter North Korean threats, reports Politico. The request,  also includes another $700 million to repair damages to the Navy destroyers USS Fitzgerald and John McCain after the destroyers were involved in separate collisions in the Pacific that killed 17 sailors.
Tiny Dove satellites could predict natural disasters and help ships with navigation, reports International Business Times. Dove satellites work in swarms, constantly taking high resolution images of the Earth. The Dove goes from North Pole to South Pole every 90 minutes, notes the report. This means they have extensive coverage of many of the planet's most ecologically at-risk areas.
C4ISRnet reports 20 companies win placement on a possible 10-year, $17.5 billion contract to modernize federal IT capabilities, particularly the Department of Defense.The Defense Information Systems Agency contract awards came from its reissued bid solicitation following compliance with recent Government Accountability Office recommendations.
Fiscal Times reports on another analysis contradicting the GOP promise of tax cuts for everyone. This analysis one out of the Tax Policy Center finds "nobody in the middle class is going to get a tax increase" and as time goes on increasing numbers of taxpayers will pay more.
Lockheed Martin recently delivered F-35 Full Mission Simulators (FMS) to the Israeli, Italian, Japanese, and Norwegian air forces — the first-ever deliveries to international F-35 operators. The simulators are critical components of the pilot training capability at F-35 operating bases in these four countries, where they will facilitate pilot qualification training, continuation training, and mission rehearsal training.
The Department of Homeland Security canceled immigration benefits this week for nearly 5,300 Nicaraguan nationals in the US, but extended benefits for 86,000 Hondurans, reports The Hill. The Central American migrants were allowed to live and work in the US under a program called Temporary Protected Status. Nicaraguans covered by the TPS program will be allowed to remain and work in the country until Jan. 5, 2019.
Contracts:
Four LLC, Herndon, Virginia (modification P00018 to W52P1J-15-D-0006); Immix Technology Inc., McLean, Virginia (modification P00017 to W52P1J-15-D-0007); and Carahsoft Technology Corp., Reston, Virginia (modification P00017 to W52P1J-15-D-0008), will share in this $130,000,000 modification to provide commercially available-off-the-shelf software products and maintenance that have obtained a full Certificate of Networthiness through the Army's Network Command networthiness process in the following categories: IT Utility and Security; Modeling and Simulation; Multimedia and Design; and Program and Development. Work locations and funding will be determined with each order, with an estimated completion date of Feb. 10, 2020. US Army Contracting Command, Rock Island Arsenal, Illinois, is the contracting activity.
Salmon Group Inc., Washington, District of Columbia (HQ0034-18-D-0001); Dynamo Technologies LLC, McLean, Virginia (HQ0034-18-D-0002); American Staffing Partner Inc., Bethlehem, Pennsylvania (HQ0034-18-D-0003); and One Federal Solution Corp., Alexandria, Virginia (HQ0034-18-D-0004), have been awarded an indefinite-delivery/indefinite-quantity contract with a maximum amount of $45,000,000. The contract is to provide enterprise-wide administrative support services to assist the Office of the Secretary of Defense. Work performance will take place in Arlington, Virginia; and Alexandria, Virginia. No funds will be obligated at the award of the basic contract. Appropriate fiscal year operations and maintenance funds will be obligated on all subsequent task orders. The expected completion date is Oct. 30, 2022. Washington Headquarters Services, Arlington, Virginia, is the contracting activity. (Awarded Oct. 31, 2017)
 Intercell USA Inc., Gaithersburg, Maryland, has been awarded a maximum $39,608,800 firm-fixed-price, indefinite-quantity contract for Japanese encephalitis vaccine. This was a sole-source acquisition using justification 10 US Code 2304 (c) (1). This is a one-year contract with no option periods. Location of performance is Maryland, with a Nov. 2, 2018, performance completion date. Using military services are Army, Navy, Air Force, and Marine Corps. Type of appropriation is fiscal 2018 through fiscal 2019 defense working capital funds. The contracting activity is the Defense Logistics Agency Troop Support, Philadelphia, Pennsylvania (SPE2DP-18-D-0002).