Museum to Exhibit Presidential Memorabilia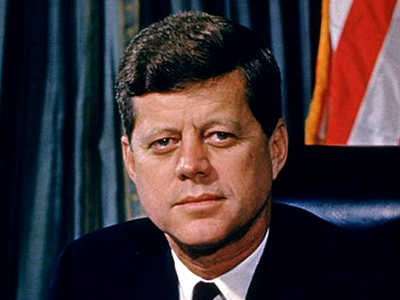 The St. Mary's County Museum Division will present a special temporary exhibit at the St. Clement's Island Museum in Colton's Point, Maryland to highlight items in the private Presidential memorabilia collection of the Roberto L. G. Lizama family. This never-seen-in-public collection will be available for viewing Sunday, August 19, 12 noon to 5 p.m. and August 20 through August 23, 10 a.m. to 5 p.m.
Roberto L. G. Lizama, was an immigrant from Guam with a seventh grade education who served in the U.S. Navy for 30 years, then later as chef and personal assistant to Presidents John F. Kennedy, Lyndon B. Johnson, and Richard M. Nixon. Mr. Lizama passed away in 2000 but his family is sharing treasured items given to their father personally by the Presidents and First Ladies he so loyally and dutifully served.
Roberto Lizama first met John Kennedy as a naval officer aboard ship, serving him an after hours meal. After enjoying Lizama's delicious meal and warm hospitality Kennedy told Lizama of his political aspirations and vowed to bring him to the White House when he became President.  Kennedy was a man of his word, and after winning the 1960 Presidential election, summoned Lizama to the White House. Lizama packed up his wife and six sons in the family station wagon and drove from their home in San Diego, CA across the United States to Washington, D.C. to begin the career of a lifetime.
On Sunday, August 19, from 12 noon to 5 p.m. Stan Lizama, Roberto's son, will be in attendance to share his father's personal stories about his service in the White House and private relationships with the Presidents, First Ladies and children.
The Museum Division initiated this temporary exhibit for the purpose of a Chamber of Commerce Business After Hours event but museum staff and the Lizama family felt the significance of the exhibit would be greatly enjoyed by the community.
Museum admission is $3 per adult, $2 for senior citizens and military personnel (retired or active), $1.50 for children 6 to 18 and children five and under are free. The St. Clement's Island Museum is located at 38370 Point Breeze Road, Colton's Point, MD and is managed by the Museum Division of St. Mary's County Department of Recreation and Parks and the St. Mary's County Board of Commissioners.  Call the museum at 301-769-2222 or log on to the website at www.stmarysmd.com/recreate/museums for more information.
Source: St. Mary's County Public Information Office