MQ-4C Triton Officially Put Into Service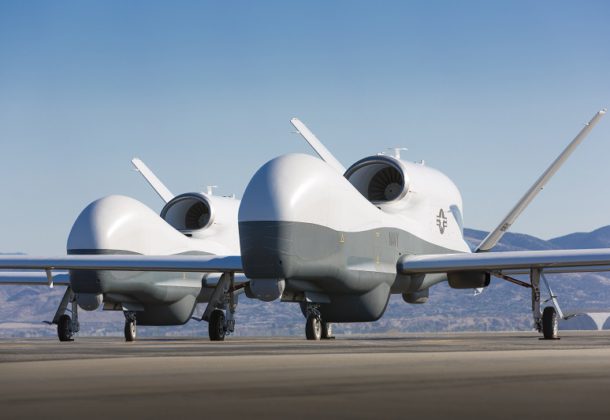 Morning Coffee is a robust blend of links to news around the internet concerning the Naval Air Station Patuxent River

economic community. The opinions expressed here do not reflect opinions of the Leader's owners or staff.
The MQ-4C Triton Broad Area Maritime System high-altitude long-endurance UAV has been officially put into service with Unmanned Patrol Squadron 19 at Naval Base Ventura County in Point Mugu, Calif., reports Jane's 360. VUP-19 now has two Triton UAVs. RADM William W. Wheeler says the MQ-4C will provide fleet commanders an unprecedented awareness of maritime battle space, reports Navy Times.
The US Air Force's MQ-9 Reaper drone has begun flights from a Polish air base, reports Air Force Times, but the service isn't disclosing exactly why, only saying the Reapers are unarmed and are being used for intelligence, surveillance, and reconnaissance.
Nextgov reports the Navy and researchers are developing robotic boats that can launch aerial and sub drones. "Our focus will be on developing a multi-vehicle system that can safely and reliably navigate coastal waters with a high level of autonomy while performing assigned tasks," said Manhar Dhanak, director of SeaTech at Florida Atlantic University.
DoD is poised to take over background checks for the federal government, reports Military Times, using increased automation and high-tech analysis to tighten controls and tackle the backlog of workers waiting for security clearances.
Two US Navy guided-missile destroyers — Jason Dunham and The Sullivans — are deploying to join the Harry S. Truman Carrier Strike Group overseas, reports Navy Times.
ADM Karl Schultz is the new US Coast Guard commandant, succeeding ADM Paul Zukunft. President Donald Trump presided over the ceremony, saying America is safe because the Coast Guard is "strong." The president called the Coast Guard the "elite force" that defends borders, patrols the waters, protects US cities, and keeps enemies at bay, reports Navy Times.
The first European-built medium-altitude, long-endurance drone has flown in Italy using satellite navigation and data links provided by a European satellite, reports C4ISRNET.
Israel Aerospace Industries has partnered with Canada's L3 MAS to offer the state-of-the-art Artemis unmanned aerial system for the Royal Canadian Air Force's Remotely Piloted Aircraft System program, reports The Jerusalem Post. Ottawa has been seeking a high-altitude, long-endurance system for surveillance as well as an armed UAV for its deployments abroad.
US Cyber Command's cyber teams are now built and transitioning to readiness, and now the force needs a dedicated platform to conduct training, reports Fifth Domain.
The Hill reports DefSec Jim Mattis says that the 28,000 US troops in South Korea are staying put. They are "not going anywhere," he says.
The Air Force has skipped its competition for a nearly $1 billion hypersonic cruise missile development contract due to lack of available funds, reports FlightGlobal, to pay multiple sources to develop alternative prototypes.
Contracts:
The Boeing Co., Huntington Beach, California, is being awarded a $15,879,671 cost-plus-fixed-fee contract for design agent and technical engineering services for the AN/USQ-82(V) family of systems consisting of the data multiplex system, fiber optic data multiplex system, and gigabit ethernet data multiplex system. As the AN/USQ-82(V) design agent, The Boeing Co., will provide advanced and highly specialized technical engineering to assist with system sustainment; cybersecurity enhancement; configuration management; development, qualification and integration of systems; testing; and technical support to manufacturing and repair vendors. The contract includes options which, if exercised, would bring the cumulative value to $82,394,253. Work will be performed in Huntington Beach, California (69 percent); Arlington, Virginia (19 percent); Pascagoula, Mississippi (5 percent); Bath, Maine (5 percent); Seattle, Washington (1 percent); and Philadelphia, Pennsylvania (1 percent), and is expected to be completed by May 2019. Fiscal 2018 shipbuilding and conversion (Navy); fiscal 2018 operations and maintenance (Navy); and foreign military sales funding in the amount of $6,499,675 will be obligated at time of award and will not expire at the end of the current fiscal year. This contract combines purchases for the Navy (93 percent); and the Republic of Korea, Commonwealth of Australia and State of Japan (7 percent), under the Foreign Military Sales program. This contract was not competitively procured in accordance with 10 US Code 2304(c)(1), only one responsible source and no other supplies or services will satisfy agency requirements. The Naval Sea Systems Command, Washington Navy Yard, District of Columbia, is the contracting activity (N00024-18-C-4103).
Alvarez LLC, Tysons Corner, Virginia, was awarded a $7,889,596 modification (0032) to contract W56HZV-15-D-0095 for Tactical Adaptable Light Ordnance Neutralization 5A build parts and spares. Work will be performed in Franklin, Massachusetts, with an estimated completion date of Feb. 5, 2019. Fiscal 2018 other procurement (Army) funds in the amount of $7,889,596 were obligated at the time of the award. US Army Contracting Command, Warren, Michigan, is the contracting activity.