MD AG Doug Gansler Speaks on Internet Security, Politics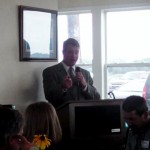 Posted by The Dorsey Law Firm Pax II Leader Member
In the late 1990s, the parents of Maryland Attorney General Doug Gansler bought a home in Medley's Neck on the Potomac peninsula of St. Mary's County. He claims the time he has spent here helped deliver him a Democratic victory in St. Mary's.
Mr. Gansler told a gathering last month of more than 200 business and community leaders, that at an earlier, live radio interview, hosts T-Bone and Heather had found little to quibble with  because he was a moderate, conservative, pro-business Democrat.
Further bolstering his moderate credentials was his election as president of the National Association of Attorney Generals.  Mr. Gansler is taking on the challenge of Internet privacy for his term at the helm. He speaks of that initiative here:
[youtube=http://www.youtube.com/watch?v=e1oXk2CDDwc]
On a political level Mr. Gansler spoke of the $2 billion being spent on advertising in the ongoing presidential race and of its negativity and then of his own future political plans.
[youtube=http://www.youtube.com/watch?v=fm3rKhIcKOM]