Latin Ensemble to Perform at CSM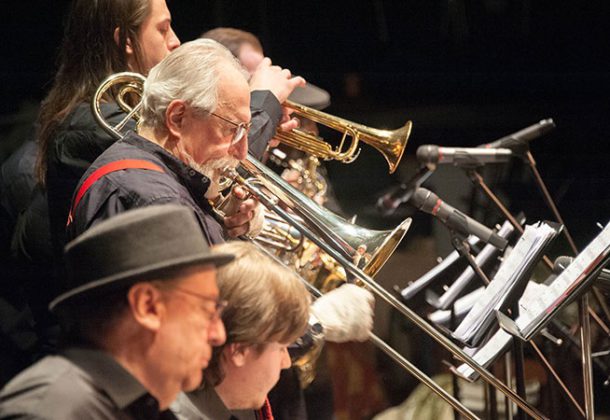 The College of Southern Maryland's Latin Ensemble Ritmo Caché, directed by Dr. Stephen Johnson, specializes in salsa, Mexican, Afro-Cuban, merengue, Latin jazz, and other musical styles of Latin America. The group will perform at 2 pm Sunday, May 8, 2016, at the Leonardtown campus.
In addition to the "big band" of 20 musicians, there is a small combo of eight musicians which performs occasional off-campus events. The group is open to both CSM students and community members who have a love of Latin American music.
The annual Latin Music Festival in April featured concerts by Ritmo Caché and a DC-area guest ensemble and included a Latin music workshop that was open to the public. Ritmo Caché is repeating its festival performance in Leonardtown on May 8 with additional music numbers to celebrate Mother's Day.
The Leonardtown campus is at 22950 Hollywood Road. The concert will be in Building A in Room 206.
Tickets are $5 in advance, $7 on the day of event. Email [email protected], call 301-934-7828, or visit www.csmd.edu/Arts for tickets.
For students interested in joining the ensemble, Ritmo Cache is seeking new members.
No auditions necessary; beginners are welcome and will receive on-the-job training. Brass, woodwind, piano, bass, and guitar are expected to have some band or lesson experience. The ensemble meets on Wednesday nights each semester from 7 to 9:30 pm.
Instrumentation
Drums: congas, bongos, timbales.
Hand percussion: guiro, cowbells, claves, maracas, shakers.
Rhythm section: piano, bass, guitar.
Woodwinds: flute, saxophone.
Brass: trumpet, trombone (or other low brass).
Vocals: men and women; ability to sing in Spanish is a plus but is not required.
Other instruments will be considered.
Registration
New members: Latin Ensemble I–MUS 1030.
Returning members: Latin Ensemble II-IV–MUS 1031-1033. (The Roman numeral should match your semester in the ensemble.)
Community members (non-credit): Latin Ensemble–PEP 5430. (See CSM continuing education catalog for details.)
For more information, contact Dr. Johnson in the CSM Department of Communication, Arts and Humanities at 301-934-7578.
For more information on the College of Southern Maryland, visit their Leader member page.