JSF Software Upgrade to Prevent Hypoxia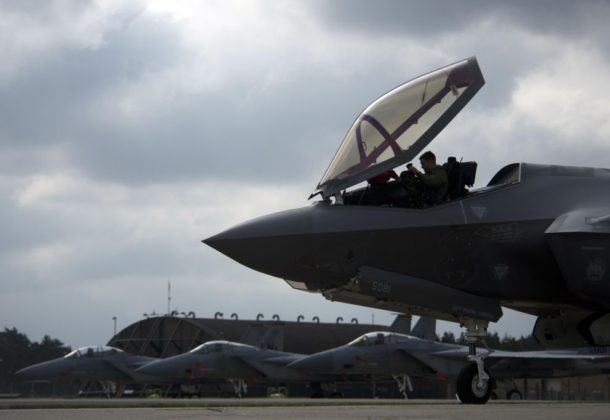 Morning Coffee is a robust blend of links to news around the Internet concerning the Naval Air Station Patuxent River

economic community. The opinions expressed here do not reflect opinions of the Leader's owners or staff.
F-35s look to a software upgrade for its oxygen generation system to prevent hypoxia symptoms, reports Defense News. Honeywell, the manufacturer of the current onboard system, is responsible for designing upgraded firmware and a path to retrofit all variants of the JSF.
Still searching for the cause of a spike in hypoxia-like cockpit incidents the Navy is looking closely at the air off the McDonnel Douglas T-45 Goshawk's engine that feeds into the oxygen generator system, reports Aviation Week. DoD is not yet clear if it is an insufficient supply of oxygen, as symptoms suggest, or something else causing similar symptoms, such as a change in cabin pressure, contaminated air, or even too much oxygen.
The US unveiled new economic sanctions against Iran over its ballistic missile program, even as it certified Iran's compliance with restrictions set in a 2015 nuclear accord. Despite that compliance, the US said "malign activities" in the Middle East undercut any "positive contributions" from the accord, reports Reuters.
President Donald Trump will commission the Navy's newest aircraft carrier this week, reports Bloomberg News, but the $12.9 billion Gerald R. Ford needs $780 million more to finish deferred work, correct deficiencies and testing, and won't be combat ready for four years, according to the Government Accountability Office in a new report that examined shortcomings in the Navy's processes for ensuring quality and accepting finished ships.
While 70 percent of Americans think is "very" or "somewhat"important to buy US-made products, a Reuters/Ipsos poll finds 37 percent would not pay more for American-made versus imports; 26 percent would pay up to 5 percent more, and 21 percent capped the premium at 10 percent.
The House GOP released its long-awaited budget resolution with claims it will reduce the deficit and generate a surplus over the next decade, reports The Washington Times. The proposal sets 2018 discretionary spending levels at $1.13 trillion — $621 billion in defense, $511 billion non-defense — and cuts more than $200 billion from mandatory spending programs.
Citing security concerns, the Coast Guard will close access to about two miles of the Potomac where it borders Trump National Golf Club in Sterling, Virginia, when the president is golfing, reports The Washington Post. The restrictions would clear the water of canoes, kayaks, stand-up paddleboards, sailboats, Jet Skis, motorboats, and anglers when Trump or other senior officials of his government decide to spend a day on the back nine.
AP notes the three votes that killed the GOP health care bill were shut out of the initial, all male, working group on health care: Susan Collins of Maine, Lisa Murkowski of Alaska, and Shelly Moore Capito of West Virginia.
Without a workable plan to unwind the Affordable Care Act able to keep moderate and conservative Republicans on board, The New York Times reports the GOP effort to just repeal and replace later has collapsed as well. Politico reports President Trump was blindsided by implosion of GOP health care bill, lunching with GOP lawmakers over steak and strategy at the White House as two senators were finalizing their statements tanking the current proposal. Trump had no idea that the statements were coming, according to several White House and congressional officials.
The daughter of a couple who disappeared in the Swiss Alps more than 70 years ago said the discovery of two bodies emerging from a melting glacier has brought her a "deep sense of calm" after so long without an answer, reports CBS News. The couple went to milk cows in a meadow above their home and never returned, evidently falling in a cravass.
Kenny Rogers will perform with Dolly Parton for a final concert before retiring from live shows after six decades, reports UPI.
Contracts:
Huntington Ingalls Industries, Newport News Shipbuilding (HII-NNS) Inc., Newport News, Virginia, is being awarded a not-to-exceed $148,728,722 undefinitized fixed-price-incentive-firm target modification to previously awarded contract (N00024-16-C-2116) for the purchase of additional long-lead-time material in support of Enterprise (CVN 80). Work will be performed in Newport News, Virginia, and is expected to be completed by January 2024. Fiscal 2017 shipbuilding and conversion (Navy) funding in the amount of $148,728,722 will be obligated at time of award and will not expire at the end of the current fiscal year. This contract was not competitively procured, in accordance with Federal Acquisition Regulation 6.302-1(a)(2)(iii) – only one responsible source and no other supplies or services will satisfy agency requirements. The Naval Sea Systems Command, Washington, District of Columbia, is the contracting activity.
Booz Allen Hamilton, McLean, Virginia, has been awarded a $140,000,000 indefinite-delivery/indefinite-quantity, firm-fixed-price contract for Air Force business area process reengineering, performance improvement and change management projects, with shared interest across the Air Force and Department of Defense. Projects will be sponsored by a senior Air Force leader and endorsed by the Air Force Deputy Chief Management Officer. Work will be performed in McLean, Virginia, and is expected to be complete by July 17, 2022. This award is the result of a competitive acquisition, and seven offers were received. Fiscal 2017 funds in the amount of $217,404 are being obligated at time of award. Air Force District of Washington, Joint Base Andrews, Maryland, is the contracting activity (FA7014-17-D-5001).
The KeyW Corp., Hanover, Maryland, has been awarded a $23,924,180 cost-plus-fixed-fee contract for the Research to Advance Comprehensive Exploitation of Radio Frequency (RF) Research and Development (R&D) program. This contract provides for the R&D of RF exploitation technology with innovative algorithmic approaches for dynamic and flexible sensing, capable of leveraging all available information to maximize sensing and exploitation performance, to address concurrent detection, tracking, imaging, and classification/identification of targets within contested and challenging environments with singular and distributed sensing architectures. Work will be performed in Severn, Maryland; North Andover, Maryland; and Beavercreek, Ohio. This award is the result of a competitive acquisition, and two offers were received. Fiscal 2017 research, development, test, and evaluation funds in the amount of $119,000 will be obligated at the time of award. Air Force Research Laboratory, Wright-Patterson Air Force Base, Ohio, is the contracting activity (FA8650-17-C-1005).
Booz Allen Hamilton, McLean, Virginia, was awarded a $49,900,000 cost-plus-fixed-fee contract to provide Recovered Chemical Materiel Directorate program management, mission, and operational support. Bids were solicited via the Internet with two received. Work locations and funding will be determined with each order, with an estimated completion date of July 12, 2022. US Army Contracting Command, Aberdeen Proving Ground, is the contracting activity (W911SR-17-D-0005).