Hoyer Honored by UMD College Park Foundation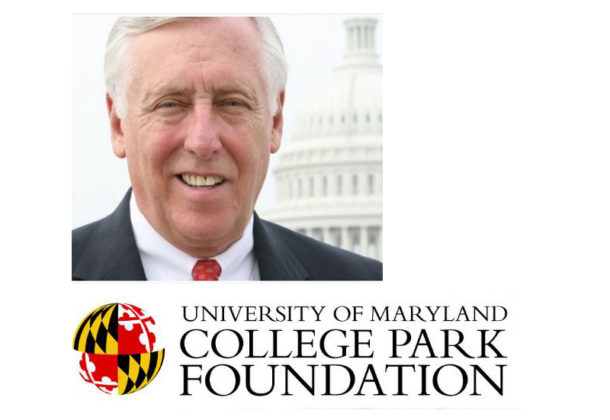 Congressman Steny H. Hoyer has been named the 2017 recipient of the University of Maryland College Park Foundation Outstanding Service Award.
The Outstanding Service Award is given each year to a member of the University of Maryland College Park Foundation community. The award is given to recognize the people who work diligently to provide outstanding service and make great contributions to the University of Maryland community.
Congressman Hoyer said he was pleased to receive the award, and that he is a proud alumnus of the University of Maryland College Park. He said he is honored to represent the university in Congress.
"It was in College Park that I began my journey in public service, after seeing President John F. Kennedy speak," Congressman Hoyer said. "In the years since then, I've worked hard to ensure the University of Maryland has the resources it needs to continue its mission of educating the leaders of tomorrow for Maryland, and for our country. I thank the foundation for bestowing me with this award, and I look forward to continuing to work with the administration, board of trustees, and foundation in the years ahead."
"It is a distinct pleasure to bestow the Outstanding Service Award to an extraordinarily successful and loyal Terp," said Ray Ferrara, chairman of the University of Maryland College Foundation Board of Trustees. "Congressman Hoyer embodies the fearless spirit of Terrapins everywhere."
The College Park Foundation is composed of volunteers who govern the investment and distribution of private funds, serve as advocates, assist and advise the university's president, and help increase the level of philanthropic support for the university.
Congressman Hoyer attended Suitland High School in Prince George's County, and in 1963 he graduated with high honors from the University of Maryland, selected "Outstanding Male Graduate" that year.
Follow Congressman Hoyer on Facebook and Twitter.
For more information about House Democratic Whip Steny H. Hoyer, visit his Leader Page.