High School Seniors Receive SMECO Scholarships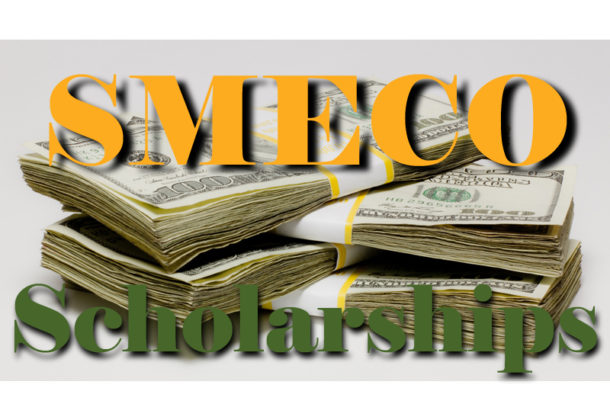 Four high school seniors have been awarded scholarships by Southern Maryland Electric Cooperative for 2018. The SMECO Scholarships are $1,500 each.
Every year, SMECO awards four scholarships to students who live in the cooperative's service area. SMECO scholarships are granted based on the applicants' scholastic achievement, school and community involvement, and financial need. SMECO has now given scholarships to 104 students since it began the program in 1993. Each of the following students will receive a $1,500 college scholarship: Ashli Chicks, Loryn Cottle, Jim Kong, and Nya Medley.
Ms. Chicks is a graduate of North Point High School in Charles County. She will attend Spelman College in Atlanta, Ga., where she will pursue a career as an orthodontist. Ms. Chicks played viola in the high school orchestra and was a member of the Hispanic National Honor Society. She participated in Howard University's Computer Information Systems Career Awareness Program, plus community service organizations like Mission Nutrition, distributing food to families in need; and Out of the Darkness Walks, raising money for suicide prevention. North Point teacher Natalie Wright said: "Ashli connects well with other people and can understand a problem from many different dimensions. She is eloquent and persuasive and able to communicate her point strongly. She thrives in situations where she will learn from others." Ms. Chicks is the daughter of Alicia Greene of White Plains.
Ms. Cottle is the daughter of Michael and Jennifer Cottle of La Plata and graduated from La Plata High School in Charles County. She will attend Brigham Young University in Utah. An accomplished athlete, Ms. Cottle played on the volleyball and basketball teams, winning the Most Outstanding Player Award for three years and honored as an All SMAC team member. She also participated in several community, church, and civic groups throughout high school. Ms. Cottle plans to become a teacher.
Mr. Kong is a graduate of Northern High School in Calvert County and will attend the University of Maryland in College Park to work toward a degree in computer science. As a pianist and violinist, Mr. Kong's interests include everything from music to computer programming. He received awards for academic achievement, including the Rene Descartes Award for Honors Precalculus, the Dwight Eisenhower Advanced Placement US History Award, and the Leonardo da Vinci AP World History Award. A member of Civil Air Control cadet program, Mr. Kong is cadet commander of the Calvert Cadet Squadron. His Commander Wes LaPre said of Mr. Kong: "Cadet Kong has grown into a fine young leader who exercises seasoned judgment and rational decision making beyond his years. He led a 45-cadet team which carried the Fort McHenry flag in the National Memorial Day parade in Washington, DC. His professionalism was recognized by the chief of staff of the US Air Force." He is the son of Chong Kong of Owings.
Ms. Medley is the daughter of Joy Medley of Waldorf, where she attended Thomas Stone High School in Charles County. She will attend Stevenson University in Maryland and plans to study biology and pre-med. She played volleyball and softball; participated in track, Key Club, and Student Government Association. Ms. Medley helped with multiple civic events, like food and clothing drives, cleanups on roadsides, and fundraisers. She was chosen for the Science and Engineering Apprenticeship Program at the Naval Surface Warfare Center in Indian Head, with sponsorship from the Office of Naval Research. Stephen Meade, the program's coordinator said: "Nya is a stellar performer. She was able to relate her science background in an engineering environment while working on chemical detection, penetration mechanics, robotics, rocketry, 3-D printing and lean six sigma activities. She is a truly impressive young scientist." Ms. Medley's goal is to become a pediatric orthopedic surgeon.
To learn more about SMECO, visit its Leader member page.