Harrier Program Welcomes Next Commander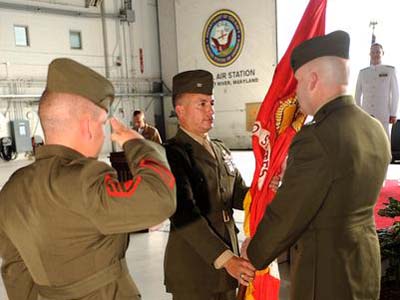 The AV-8B Weapons Systems Program Office (PMA-257) at Naval Air Station Patuxent River appointed a new program manager during a change-of-command and retirement ceremony Aug. 10.
Former commander of the Air Test and Evaluation Squadron VX-23, Col. Charles Gray, relieved Col. Thomas Walsh, who retired from the Marine Corps after 25 years of service.
The PMA-257 program office manages the life cycle sustainment of the AV-8B Harrier Weapon System, for the Marine Corps and its allied partners the United Kingdom, Spain and Italy. The program engineers, procures, fields and sustains readiness and capability improvements for Vertical/Short TakeOff and Landing (V/STOL) attack capability.
Source: AIR-1.0 Public Affairs