Four Stars Debate Military Readiness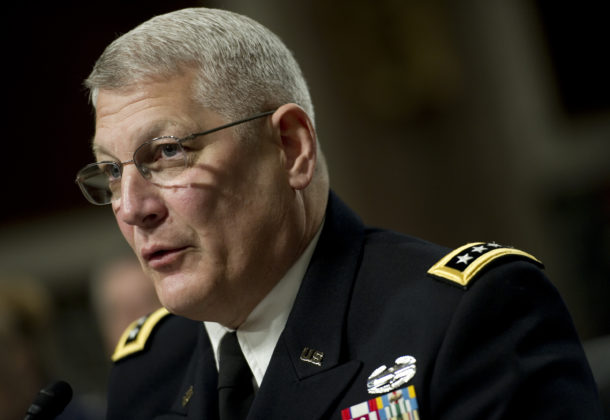 Morning Coffee is a robust blend of links to news around the Internet concerning the Naval Air Station Patuxent River

economic community. The opinions expressed here do not reflect opinions of the Leader's owners or staff.
Retired Army Gen. Carter Ham has taken issue with the claim of retired Army Gen. David Petraeus that the US military is in fairly good shape in terms of readiness. "Fifteen years of operations in Iraq and Afghanistan, and now in Syria, Libya and elsewhere, compounded by years of budget uncertainty, have left America's military forces less well-prepared for operations to counter the increasing capabilities of near-peer and emerging competitors," General Ham said in an article for Defense One. Last week, General Petraeus, the former commander in Iraq and Afghanistan, joined with Michael O'Hanlon, a senior fellow at the Brookings Institution, in an op-ed for The Wall Street Journal in which they said concerns about readiness were overblown.
Navy pilots say piloting the F-35 Joint Strike Fighter on to the flight deck of a US aircraft carrier is almost like flying a plane that flies itself, Defense One reports. The software aboard the new fighter could enable the military to train pilots faster and, in the event of a major conflict, possibly fly more sorties against the enemy. Pilots would spend less time throttling and figuring for flight conditions and more time coordinating with other aircraft.  No more "fighting the aircraft," one pilot said.
The Navy is considering the advantages of a stealth refueling drone to protect aircraft carriers and extend the range of fighter jets, the National Interest reports. Such an ability is deemed vital to the Pentagon's Anti-Access/Area-Denial phenomenon where long-range missiles are increasingly able to target and destroy aircraft carriers  as far as 1,000 miles off shore. The MQ-25A Stingray is the next step in the Navy's evolutionary integration of unmanned air systems into the carrier strike group's operational environment. The technology stands in contrast with the KC-46A, an existing large fuselage tanker with a large radar signature that could make it vulnerable to enemy attack.
A National Interest analysis predicts the Navy will need to develop carrier-based, fixed-wing, anti-submarine warfare capability to counter the resurgent threat from enemy submarines. The Navy does not have enough attack submarines, cruisers, destroyers or helicopters, the analysis contends, to adequately protect deployed forces from subsurface threats because its ASW capability has atrophied since the end of the Cold War.
Defense Department contractors in Afghanistan still outnumber US troops by a 3-to-1 margin, according to new research released this week, raising questions again about the role those workers play in the ongoing wars overseas and the oversight they receive, Military Times reports. The data, compiled by the Congressional Research Service and first reported by Politico, shows contractor numbers in both Iraq and Afghanistan dating back to fiscal 2007. Combined, the Defense Department spent more than $220 billion on contractors in both war zones for a variety of services and support.
A government investigation found "endemic manufacturing problems" at a company that led to the sale of millions of dollars' worth of defective combat helmets, The Hill reports. The Justice Department's inspector general released a scathing report on practices at Federal Prison Industries, a government-operated group that employed inmates to manufacture nearly 150,000 military helmets.
Contracting executives say they're facing difficulty in getting security clearances approved, in some cases slowing their ability to staff contracts, Inside Defense reports. During a call with analysts late last month, Lloyd Howell, Booz Allen Hamilton's chief financial officer, said the "government's pace of approving security clearances" is creating a challenge for the industry. "As a result, we're being more creative in recruiting, retaining and deploying professionals who already hold clearances," Howell said. "It is a competitive market in terms of talent."
Members of the US Federal Reserve Open Market Committee have been dithering for months over whether the American economy is strong enough to withstand higher interest rates, which would raise the cost of borrowing, Foreign Policy says. Minutes from their July meeting, released Wednesday, show that this uncertainty continues, but concerns about the economic fallout from the Brexit in the US have apparently been quelled.
Under pressure to fund overseas combat operations, the Defense Department has "realigned" monies to and from day-to-day operations and maintenance accounts without fully explaining the numbers to Congress, according to Government Executive. One result of transferring some $149 billion over the past five years, said a Government Accountability Office report released Tuesday, is a shortfall averaging 5.6 percent of what was obligated for base operations and maintenance.  The GAO is recommending a more precise accounting method, which the Pentagon says its outdated systems are unable to produce.
According to the Census Bureau's American Community Survey Report on Occupations in Information Technology, the number of men and women in IT occupations rose from 450,000 in 1970 to 4.6 million in 2014. The Census Bureau said it classified only three IT occupations in 1970 — computer programmers, computer specialists, and computer analysts. By 2010, there were a dozen IT occupations, including computer network architects, database administrators, web developers, and network and computer systems administrators. Click the link above for the full report.
Contract:
Imagine One Technology & Management Ltd., Colonial Beach, VA, is being awarded $33,637,439 for cost-plus-incentive-fee, level-of-effort Seaport task order EH03 under previously award contract N00178-14-D-7755 for Navy Maritime Maintenance Enterprise Solution Sustainment and Modernization support. The objective of this procurement is to provide operations support and sustainment services for systems engineering, testing, and evaluation of hardware and software information technology systems, hardware design, procurement assistance, system integration, software maintenance (i.e. upgrades, fixes, and coding repairs), data center operations support, and information technology facility management.  Work will include program and project management support, development of end items resulting from maintenance activities, and life-cycle support for existing or proposed solutions. The contractor shall provide support services to ensure the successful programming (for the purpose of sustainment), testing, training, deployment, implementation, and operation of Navy Shore Based Maintenance systems managed by NAVSEA 04. This task order contains options which, if exercised, would bring the cumulative value of this contract to $174,975,161.  Work will be performed in Norfolk, VA (85 percent); Washington, DC (5 percent); Rocket Center, WV (5 percent); and at various Navy shore maintenance facilities (5 percent), and is expected to be completed by July 2017. Fiscal 2016 operations and maintenance (Navy) funds in the amount of $5,056,855 will be obligated at the time of award and will expire at the end of the current fiscal year. This task order was competitively procured via the Seaport-e-portal, with 14 offers received.  The Naval Sea Systems Command, Washington, DC, is the contracting activity.