For SMECO, Members Are Core of the Cooperative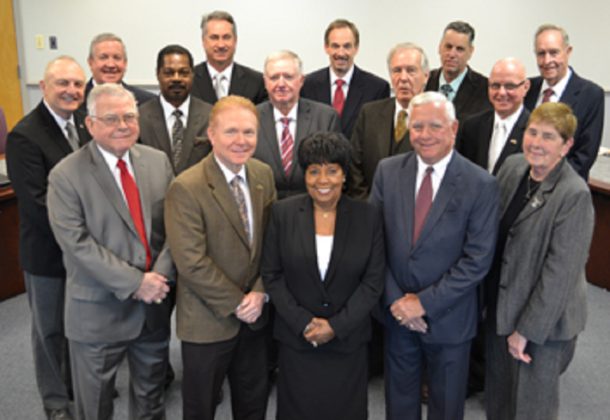 Photo courtesy of Southern Maryland Electric Cooperative
SMECO Board of Directors members are, in the front row from left, Gilbert O. Bowling, W. Michael Phipps, Fern G. Brown, Richard A. Winkler and Nancy W. Zinn. In the second row from left are Victor B. Allen, J. Douglas Frederick, James A. Richards, Daniel W. Dyer and Kenneth L. Dyson. In the third row from left are Joseph V. Stone, W. Rayner Blair III, P. Scott White, William R. Cullins III and Samuel J. Hammett.
Not pictured is Joseph R. Densford, board attorney.
SMECO releases annual report
The community of Southern Maryland is living the cooperative difference. Cooperatives provide at-cost electric service to their customer-members — every home and business the cooperative serves.
In a cooperative, net margins are used as working capital to improve operations. Any net margins the cooperative retains are returned to the customer-members as capital credits. Investor-owned utilities operate differently. They strive to maximize profits for shareholders, most of whom do not even live in the territory the utility serves.
In 2014, Southern Maryland Electric Cooperative's margins totaled $8,428,000, and those margins were allocated to capital credit accounts in March 2015. A general refund of $1.52 million, an amount based on a percentage of all customers' capital credit accounts, was issued to members in summer 2015.
The difference is clear — members are the core of a cooperative.
Because SMECO's customers are its members, staying connected with them is the top priority. SMECO stays connected by offering programs and services that are valuable to its members: Patriot Connect, a service for military personnel and veterans; WattPlan, an online tool for customers interested in solar power; and SMECO 24/7, a service customers use to make payments and report outages using their smart phone or mobile device.
Throughout the year, SMECO continued its efforts to stay connected with its members by improving the customer experience — introducing new technologies and new programs to benefit members, building on a base of reliable service through upgrades to the electric system, and refining business processes to ensure a lean operation.
Because providing high-quality, valuable service is an essential part of staying connected with its members, reducing overhead and cutting costs are important considerations. SMECO made great strides in 2015 to reduce expenses. The cooperative refinanced loans totaling approximately $363 million to save more than $50 million in interest over the life of those loans. The cooperative also took steps to reduce the workload and costs of maintaining its fleet by eliminating some of its vehicles.
Customer feedback tells the company that these efforts to save money and provide high-quality customer service are making a difference.
SMECO won its eighth consecutive J.D. Power award for customer satisfaction in 2015. The cooperative also received a fourth ENERGY STAR Partner of the Year award and an Alliance for Workplace Excellence EcoLeadership award in recognition of its commitment to renewable energy, environmentally sustainable workplaces, and efficient use of resources.
As the company moves forward, it will continue to seek ways to improve and enhance its customer service and reliability.
For SMECO facts and financial figures, click here.
For more information about Southern Maryland Electric Cooperative, visit its Leader member page.