Fall Fest Returns to St. Mary's Square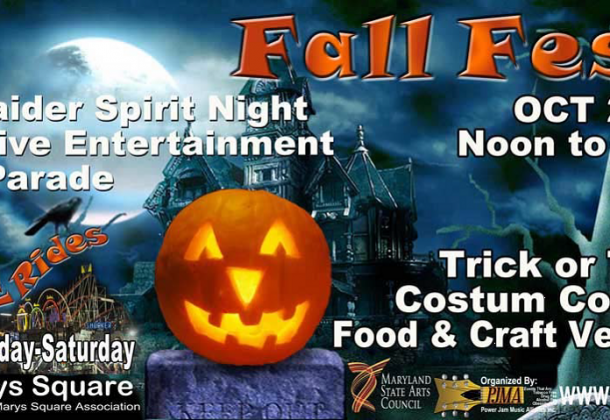 Posted by
Lexington Park Business and Community Association
Bay Leade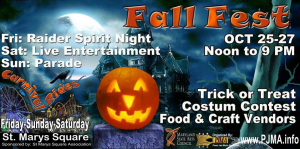 r  
Fall Fest is returning to St. Mary's Square October 15-27 with a three-day carnival, a Raider's Spirit Night, a parade, costume contest, trick or treating and more.
The festival is free to attend. The carnival rides do have a charge.
Spirit night will include the Patuxent Raiders football teams and Cheering Squads for a night of Cheerleading competition.
Saturday's entertainment will include SMD Community Gospel Choir, B-Side Avenue, Black Friday, Soulful Journey, The Tribe and Cruizers.
The carnival will be open from noon until 9 Friday, Saturday and Sunday as well as food and craft vendors. A Trick or Treat Shop will be open from 2 -4 Saturday afternoon and Sunday in addition to the parade around the square to  begin at 3 pm will be a costume contest.
The three-day festival is sponsored by the St. Mary's Square Merchant Association and put on the Power Jam Music Alliance, a nonprofit dedicated to bringing musicians into the community. PJMA sponsors musical performances in a variety of venues throughout the community, including annual fall and Christmas events at St. Mary's Square.
The full schedule for the 2013 Fall Fest:
Friday 25 Oct
Carnival Noon to 9 PM
Raider Spirit Night 6 PM to 9 PM
Food and Craft Vendors Noon to 9 PM
Saturday 26 Oct
Carnival Noon to 9 PM
Live Entertainment Noon to 8 PM
Trick or Treat at Shop 2 PM to 4 PM
Food and Craft Vendors 8 MP to 9 PM
Sunday 27 Oct
Carnival Noon to 9 PM
Parade 3 PM to 6 PM
Food and Craft Vendors Noon to 9 PM
 Fred Heather of PJMA is planning a three month Guitar Fest in the opening quarter of 2014 including one of the events to be held in Lexington Park, Maryland.
LPBCA sponsored by:
[adrotate group="13″]