Engineering Students Receive Full Scholarships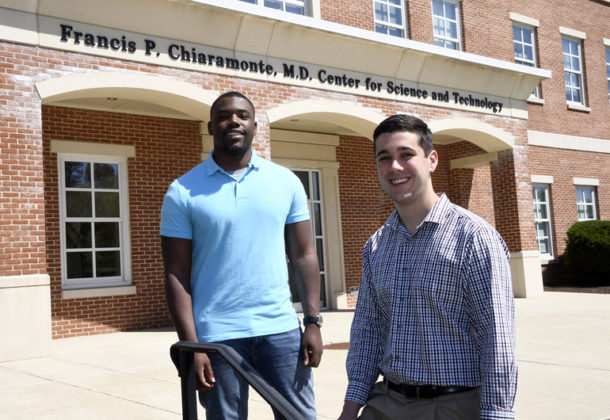 Two engineering students at the College of Southern Maryland have been awarded Science, Mathematics and Research for Transformation Scholarships from the US Department of Defense. Kevin Jackson, 22, of Lusby, left, and Noah Schaeffer, 20, of Dentsville received the scholarship that will fund the remainder of their undergraduate education.
A pair of engineering students at the College of Southern Maryland have received Science, Mathematics and Research for Transformation (SMART) Scholarships from the US Department of Defense. Lusby's Kevin Jackson, 22, and Dentsville's Noah Schaeffer, 20, received scholarships that will pay for the remainder of their undergraduate education.
"It is a very prestigious scholarship that provides full tuition and educational fees, health insurance allowance, miscellaneous allowance and a stipend ranging from $25,000 to $38,000 in return for an employment commitment to a Department of Defense sponsoring facility," said CSM Pre-Engineering Coordinator Shadei Jones. "Both Kevin and Noah are not only great students in the classroom but outside of the classroom as well. They both are beyond deserving of this award."
Both engineering students are still trying to mentally register how the scholarship will change their futures.
"This is very exciting to me," Mr. Jackson said. "Without this scholarship, I would have been another average student with a crazy amount of debt. This scholarship changes my perspective on school because I am not only representing myself but also the Department of Defense. This scholarship gives me the opportunity to make connections with people across the world in my internship, but also allows me to go to an out-of-state school and get experiences that I could never get without being on campus and living in a different environment. [It] is a gift that I cannot take for granted."
"This scholarship is life-changing," Mr. Schaeffer said. "I no longer have to stress or worry about how I am going to finance my last two years of school at the University of Maryland. This will allow me to devote all of my time toward my studies, instead of holding part-time jobs to pay for school. Also, when I graduate, I will not have to worry about finding employment. This means I will not have to spend my time securing a job during my senior year of college. … Words can't describe how appreciative I am to the DoD for allowing me the opportunity to further my education."
Mr. Jackson is a 2014 graduate of Patuxent High School. He has been studying electrical engineering at CSM for three years. He will continue his education at Temple University in Philadelphia. After he earns his bachelor's degree, he will start his career with the DoD.
Also, Mr. Jackson says his plans include creating and building on programs to bring more participation in STEM from minorities, particularly the African-American community. "African-Americans make up less than 5 percent of the tech industry," he said. "That is a problem that I hope we can fix."
Finally, Mr. Jackson also hopes to some day own a commercial cube satellite company.
"Kevin is a well-rounded engineering student who excels in and out of the classroom," Ms. Jones said. "As an example of this, Kevin recently volunteered with the Engineering Club to prepare meals for Charles County residents in need at Our Place in Waldorf. He has participated with CSM's Destination College as a student engineering instructor quite a few times."
Mr. Schaeffer began studying mechanical engineering at CSM in 2016 after he graduated high school in Langhorne, Pa., and moved to Maryland. He has just graduated this month with an associate degree and is now participating in CSM's partnership with the University of Maryland and the US Navy, which allows transfer students to take most of their mechanical engineering classes locally at the Southern Maryland Higher Education Center in California.
Mr. Schaeffer's personal goal was to earn his bachelor's degree with as little debt as possible. Receiving the SMART Scholarship assures that he can achieve that goal.
"My second goal is to create or help design something that will benefit our society," Mr. Schaeffer said. "I want to never stop acquiring knowledge. I will always strive to use my gained knowledge to benefit humanity."
Ms. Jones said Mr. Schaeffer is "an all-around amazing student. I met Noah at a spring open house two years ago, and worked with him regularly the entire time he has been at CSM," she said. "I remember when he came to my office to get help with his resume and then back again the next time more excited to let me know he got the engineering internship at Indian Head. He has been an active member of the Engineering Club his whole time at CSM and is always volunteering. … It has been my pleasure to work with him during his time at CSM."
Both engineering students said CSM faculty went out of their way to help them navigate their educations at the college as well as look for outside opportunities, with both acknowledging Ms. Jones as being particularly helpful as they began their engineering studies at CSM. "From the first day that I met with her she has pushed me and put me in positions to be successful," Mr. Jackson said. "I call her the internship guru because she helps so many people get internships. She is constantly looking for new opportunities for the engineering program. Her door is always open and she always kept me updated on different opportunities for internships and scholarships."
The SMART Scholarship is one of several DoD scholarships that offer cash awards to students who have demonstrated ability and aptitude for excelling in STEM fields that are important to DoD. The SMART Scholarship aims to increase the number of civilian scientists and engineers working at DoD facilities.
For information about the SMART Scholarship, visit www.smartscholarship.org. For information about STEM studies at CSM, visit the college's website.
For more about the College of Southern Maryland, visit its Leader member page.