To EaseTraffic Pax Extends Hours at Gates 2 & 3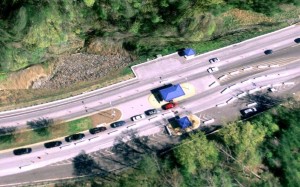 Posted by
Lexington Park Business and Community Association
Bay Leader  
A couple days of two-hour commutes between Lowes and Gate 1 resulted in a new ruling out of the NAS:Patuxent River regarding when Gates 2 and 3 would open and the intensity of recently upgraded security checks.
Commissioner Todd Morgan told the Lexington Park Business & Community Association that  the slow down was a result of a 100 percent ID check instigated at the base.
To address the resulting traffic delays, the base added sentries to augment Gate 1 inspections, Gate 2 will open inbound from 6 a.m. to 9 a.m. and Gate 3 will open from 5:30 to 9 a.m. for both inbound and outbound traffic.
The 100 percent security check will be conducted at random time blocks and contractors are reminded that their base access does not authorize access for all occupants of their cars.
"Several factors are relevant to the immediate traffic difficulties we are experiencing," CAPT Ben Shevchuk,  Commanding Officer of NAS Patuxent River explained in an e-mail shared with the LPBCA.
The tighter security followed a Navy-wide response to the September 16th attack at the Washington Navy Yard plus a late September security assessment at Pax that focused the base on security measures, according to the commanding officer. Meanwhile hiring freezes, furloughs, budget reviews and the government shutdown further complicated the personnel needs associated with the expanded security.
In addition to opening more access points during the busiest morning hours, CAPT Shevcuk's e-mail said he was exploring the possibility of adding more contractor supplied security personnel. This too is currently complicated by funding and furlough issues.
Mr. Morgan called these "baby steps" by the Navy to begin addressing the outside-the-gate difficulties wreaked by its decisions earlier this year to reduce access via Gates 2 and 3. The LPBCA has opposed the closures, complaining of the resulting traffic snarls and loss of business to the commercial interests built around Gate 3 and the original main gate, now Gate 2.
LPBCA sponsored by:
[adrotate group="13″]