Dyson Building Center is Going Green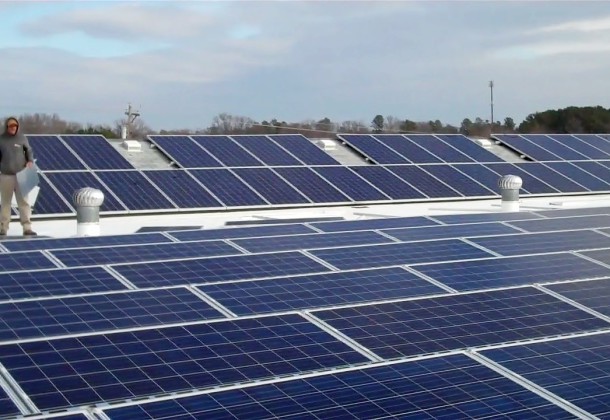 Posted for Dyson Building Center
As a multi-generational, family-owned and –operated sawmill, lumberyard, and now a full-service hardware store and more, Dyson Building Center had no trouble understanding the importance of preserving for the future.
They've been going GREEN.
The latest, and so far most significant step in Dyson Building Center's GO GREEN effort, is a solar project that will convert the entire sawmill, lumberyard, and retail store to solar power. The full project involves 273 solar panels, each four-feet by eight-feet, covering the roof of Dyson Building Center on Route 5 in Great Mills, MD.
The 300-watt panels were made LG Electronics, Inc., the same company that makes your cell phone & flat screen televisions.
Even accounting for future growth and additional exterior lighting, the solar project will produce more electricity, 81 kilowatts, than Dyson Building Center will use.
At the company's expense a SMECO transformer is being replaced on MD Rt. 5 to allow the new electricity generated by Dyson Building Center back into the grid. So while Dyson Building Center will move off the grid, they will not be pocketing any money from the electricity they send back to SMECO, said Neal Dyson.
Dyson Building Center began working with Josh Galante, owner/operator of Altered Energy Services  from Millersville, MD in May of last year to design and plan the installation of the solar electric renewable energy system at their Great Mills retail location.
In addition to the 273 panels, the full solar unit on Dyson Building Center's roof includes eight inverter devices that turn the DC power collected from the sun to usable AC power. These same inverters will show how much energy/electricity Dyson Building Center produces at any given time.
The store will soon boast a monitor allowing customers to see how much energy is being produced. The monitor will also show what the rooftop project looks like without having to climb to the roof.
(To get a glimpse of what it looks like to climb to that roof and see the unit as it approaches completion check out the video below.)
Dyson Building Center will continue to "GO GREEN" with new initiatives for the business as well as increasing the already growing number of "green-products" in their inventory.
"Our goal," said Neal Dyson, "is to have one third of our inventory be "green-products" by 2016."
Follow their progress here and on their facebook page. And visit Dyson Building Center, 20375 Point Lookout Rd., Great Mills, MD 20634