Dr. Zahir Returns to Leonardtown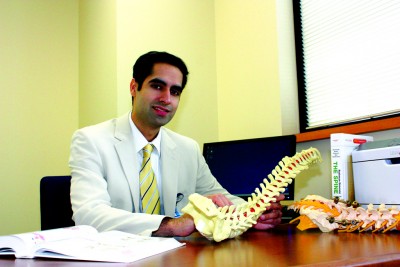 Posted by MedStar St. Mary's Hospital
Pax III
MedStar St. Mary's Hosptial is pleased to welcome Dr. Usman Zahir, the hospital's new full time orthopedic surgeon and spine specialist with MedStar Georgetown Orthopaedic Institute. Dr. Zahir offers care and treatment for foot/ankle, general orthopedics, hand/wrist, hip/knee, pediatrics, shoulder/elbow, spine, sports medicine and trauma.
No stranger to St. Mary's County or to MedStar St. Mary's, Dr. Zahir attended Father Andrew White and St. Mary's Ryken High School in Leonardtown, Maryland, before heading to the University of Maryland in College Park for his undergraduate degree. He earned his medical degree from the University of Maryland School of Medicine in Baltimore. As a fellowship trained spinal surgeon, Dr. Zahir completed medical training at the University of Maryland Medical Center with rotations at the Baltimore VA Medical Center and the R. Adams Cowley Shock Trauma Center.
As part of the MedStar Georgetown Orthopaedic Institute, Dr. Zahir has the full resources and collaboration of other orthopedic specialists as well as the facilities of MedStar St. Mary's. This is a win-win for Southern Maryland patients. Our community has the services and convenience here at home with the additional resources, if needed, of the MedStar system. Dr. Zahir will be able to perform surgeries at Georgetown as well, if needed.
Dr. Zahir is now accepting patients. His office is in the Specialty Physicians wing of the hospital's Outpatient Pavilion. Office hours are Monday and Wednesday from 8 a.m. to 4:30 p.m., Thursday from 10 a.m. to 6:30 p.m. and Friday from 8 a.m. to 1:30 p.m. Surgery is typically scheduled on Tuesdays. For an appointment, call 240-434-7483.