DefSec: Investments Continue in UAS Technology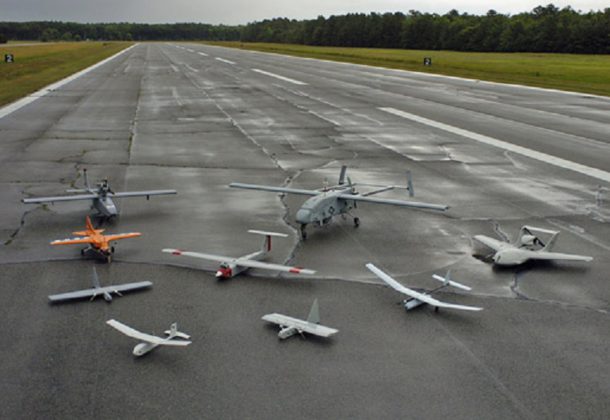 Morning Coffee is a robust blend of links to news around the internet concerning the Naval Air Station Patuxent River

economic community. The opinions expressed here do not reflect opinions of the Leader's owners or staff.
Don't count unmanned aerial systems out just yet. DefSec Ash Carter told a Senate subcommittee that investments are still being made in the UAS technology despite the military's shift to more advanced systems, Defense Systems reports.
The University of Wisconsin-Madison has developed technology that could allow drones to sniff out explosive devices and land mines, The Wisconsin State Journal reports. The proven detection technology, which also can detect chemical and nuclear weapons and drugs, was miniaturized and attached to an unmanned aircraft. But it could take about a year to get the system into the field.
Breaking Defense reports that the US might be moving toward easing the ban on arms sales to Vietnam.
Denmark is likely to choose the F-35 Joint Strike Fighter over Boeing's Super Hornet, The Local Europe AB reports. The country is looking at investing $15 billion to purchase new aircraft. The National Post in Canada reports that 10 countries have placed firm orders for the F-35, and opposition leaders there believe the prime minister should consider purchasing the fighter jets. PM Justin Trudeau originally had said the country would not do so.
US DoD chief outlined the budget of the F-35 Joint Program Office at a congressional hearing last week. It takes 2,590 military personnel, government civilians, and full-time equivalent contractors and $70 million per year to run the world's largest and most expensive military aircraft program, Lt. Gen. Christopher Bogdan said, as reported by Flight Global. The numbers include the two F-35 test forces at Naval Air Station Patuxent River and Edwards AFB in California.
Lockheed Martin and Boeing no longer have a lock on military space launches. SpaceX has been awarded an $82.7 million US Air Force contract to launch a GPS satellite into space, expected to be conducted in May 2018, Reuters reports.
DefSec Carter will meet with US allies this week to discuss new ways to possibly fight the Islamic State group, Stars and Stripes reports. The meeting scheduled Wednesday comes as NATO examines whether it needs to do more in Iraq.
Thank you for not smoking. New policy guidelines are being considered to curb tobacco use within America's military. These include raising the prices of tobacco on military bases to match local market prices and widening the smoke-free zones on the bases, Reuters reports.
Winners in the DoD's 2015 Visual Information Awards Program have been announced. Click here to view the work of military photographers published in The Washington Post.
The Worcester Telegram's recent series, "Those Who Serve," featured Vietnam veteran Ed Whittle. Mr. Whittle was trained as a helicopter mechanic. His training was with test pilots, many of whom later joined the astronaut program, at NAS Patuxent River.
Contracts:
Millennium Engineering and Integration, Huntsville, AL, is being awarded a $235,390,812 cost-plus-fixed-fee contract (including options) for advisory and assistance services for test, exercise and wargames in support of technical, engineering, advisory and management support. This contract provides support for the development, implementation, sustainment and assessment of test processes, procedures, plans and policies to support the Ballistic Missile Defense System through the test life cycle. Work will be performed at Huntsville, AL; Dahlgren, VA; Colorado Springs, CO; Albuquerque, NM; Vandenberg Air Force Base, CA; Camp Smith, HI; and Hanscom Air Force Base, MA, with an expected completion date of June 2021. Fiscal 2016 RDT&E funds in the amount of $6,088,175 are being obligated at time of award. This contract is a competitively awarded acquisition with 4 offers received.  The government selected the most advantageous proposal representing the best value to the government. The Missile Defense Agency, Huntsville, AL, is the contracting activity (HQ0147-16-C-0034).
Lockheed Martin Mission Systems and Training (LM MST), Liverpool, NY, is being awarded a $45,036,292 modification to a previously awarded contract (N00024-13-C-6292) to exercise options for the production of TB-37 Multi-Function Towed Array (MFTA) production units, tow cables, electro-optical slip rings, drogues, shipping products and the performance of engineering services in support of the AN/SQQ-89 anti-submarine warfare system. The TB-37 MFTA is a towed sonar receiver and component sensor of the AN/SQQ-89 anti-submarine warfare combat system. It provides surface ships greater capability to detect, localize and prosecute undersea threats. This contract combines purchases for the U.S. Navy (73 percent) and the government of Japan (27 percent) under the Foreign Military Sales Program. Work will be performed in Liverpool, NY (66 percent), Millersville, MD (33 percent) and Marion, MA (1 percent) and is expected to be completed by September 2018. Fiscal 2015 and 2016 other procurement (Navy) and foreign military sales funding in the amount of $42,674,646 will be obligated at time of award and will not expire at the end of the current fiscal year. The Naval Sea Systems Command, Washington, DC, is the contracting activity.
Lockheed Martin Corp., Lockheed Martin Aeronautics Co., Fort Worth, TX, is being awarded a $1,271,800,000 not-to-exceed undefinitized modification to the previously awarded low-rate initial production Lot 11 advance acquisition contract N00019-16-C-0033 for aircraft added by the U.S. services in fiscal 2016 budget deliberations and by Congress in the Consolidated Appropriations Act, 2016.  This modification provides for the delivery of 13 F-35 Lightning II aircraft for the Marine Corps (six F-35B); Air Force (three F-35A); and Navy (four F-35C).  Work will be performed in Fort Worth, Texas (55 percent); El Segundo, CA (15 percent); Warton, United Kingdom (10 percent); Orlando, FL (5 percent); Nashua, NH (5 percent); Baltimore, MD (5 percent); and Cameri, Italy (5 percent), and is expected to be completed in December 2019. Fiscal 2016 aircraft procurement (Marine Corps, Air Force, and Navy) funds in the amount of $311,900,000 will be obligated at time of award, none of which will expire at the end of the fiscal year. This modification combines purchases for the Marine Corps ($574,200,000; 45.2 percent); Air Force ($252,000,000; 19.8 percent); and Navy ($445,600,000; 35 percent).  The Naval Air Systems Command, Patuxent River, MD, is the contracting activity.