CSM's Wolfe Is Coach of the Year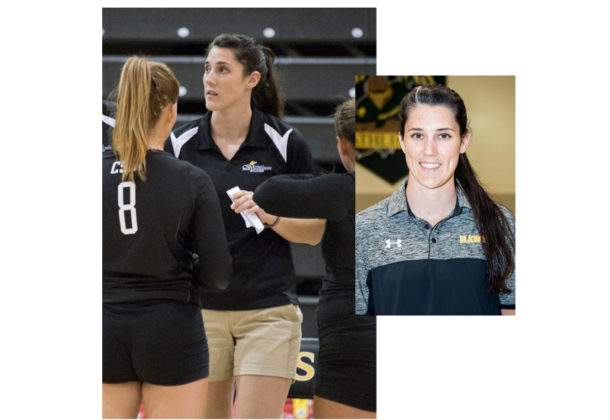 The head coach of College of Southern Maryland's volleyball team, Ashley Wolfe, has been recognized by the Maryland Junior Athletic Conference as a Coach of the Year for 2016.
Ms. Wolfe is not just a head coach – she is a former player for the CSM Hawks.
"We are proud of the volleyball team's accomplishment of Maryland JUCO Conference Co-Champions under Coach Ashley Wolfe's leadership," said Michelle Ruble, CSM executive director of student life and athletics.
Ms. Wolfe has been CSM's head volleyball coach since 2014, and led the Hawks to a 10-1 record in conference for the fall 2016 season.
Coaches of the Year were announced by Maryland JUCO on Dec. 21, and Ms. Wolfe shares the title with Beth Domenico, head coach of the Hagerstown Community College's volleyball program.
Coach Wolfe first played volleyball in middle school. While attending Patuxent High School, she played two years junior varsity and two years of varsity as a middle hitter. For her first two years of college, she played for CSM and was named All-American her sophomore year. She finished her education at Webber International University in Florida, where she also played volleyball. She earned a bachelor's degree in security management and now works at Patuxent River Naval Air Station.
She started coaching 14s club in 2009. She has coached several clubs — Impact Volleyball Club (located in Florida), Southern Maryland Juniors (SMJs), Bay Area Volleyball (BAVA), Southern Maryland Juniors Revived (SMJr), and is now working with the Southern Maryland Volleyball Club (SOMDVBC), where she coaches the 15s team. In 2014, she took the position of head volleyball coach at CSM.
Maryland JUCO governs and conducts championships for the conference's 16 varsity sports. Chartered in the late 1960s, the conference is composed of 16 Maryland community colleges that compete in a variety of varsity intercollegiate athletics. Maryland JUCO oversees and promotes programs dedicated to academic and athletic goals of its diverse institutions, while enhancing opportunities for balanced intercollegiate athletic programming. For information on MDJUCO, visit its website.
For more about CSM athletics, visit its website.
For more about the College of Southern Maryland, visit their Leader member page.