CSM Reception Welcomes Trade Students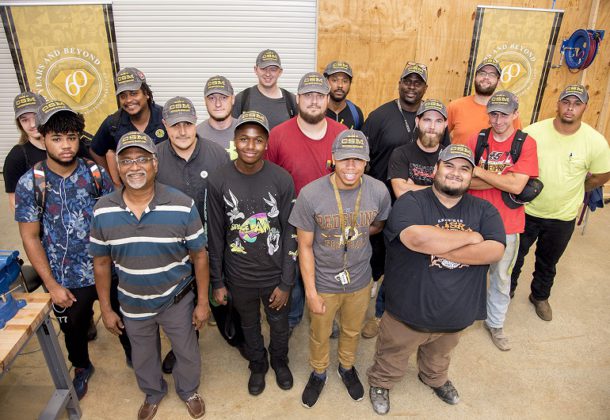 Sixty-six students were welcomed to the Hughesville Campus of the College of Southern Maryland with a reception in the Center for Trades and Energy Training CORE construction lab.
The tradesmen and tradeswomen, considered first-year skilled trade students, are starting CORE construction, Part 1 HVAC, or Part 1 welding classes in pursuit of certifications.
"I can't tell you how much we appreciate that you have chosen the College of Southern Maryland and our Center for Trades and Energy Training for your career preparation," CSM President Dr. Maureen Murphy told the crowd before handing out ball caps and cake to the attendees. "The world as we know it, would not exist without your expertise."
Dr. Murphy shared a report from the National Center for Construction Education and Research that described the nation's critical need to revitalize the construction industry.
"The backbone of our society rests on the craft professionals who build our hospitals and schools, wire electricity within our homes, and bring us indoor plumbing," she quoted.
"There has never been a better time to be in the trades," echoed CSM Vice President of Continuing Education and Workforce Development Dr. Dan Mosser. "The nationwide shortage of skilled craft professionals — carpenters, electricians, plumbers, welders, HVAC technicians, and all the trades – exceed 1.5 million positions. Today, skilled trades professionals – craft workers and journeymen alike – earn on average $9,835 more annually than the four-year degree graduate."
The 30,000-square-foot CTET, the first building on the Regional Hughesville Campus, provides residents direct access to specialized training in career fields that have substantial growth potential including welding, carpentry, electrical, HVAC, plumbing, and core carpentry skills.
The "Tip of the Hat" welcome reception capped off a week of celebrations across CSM's campuses as the institution marks its 60th anniversary during 2018 and its rich history supporting Southern Maryland's residents and economic development.
"We are your community college, and we see this 60th milestone as being one for everyone in Southern Maryland to share in celebration," Dr. Murphy said. "The most powerful things happening at community colleges are that entire families are being changed forever and the opportunities just open up."
Such is the case for first-year skilled trade student Roy Naraine, 65, of Waldorf. After finishing his master's degree in human resources and management from Webster University last spring thanks to the GI Bill, the retired US Navy master chief with 30 years of active duty said he decided to follow in his sons' footsteps by attending classes at CSM this semester.
Mr. Naraine's son Shawn completed the CSM pre-engineering program through the Southern Maryland Engineering Partnership with the Naval Air Warfare Center and the University of Maryland at College Park. Shawn finished a four-year engineering degree in Southern Maryland by completing his first two years of college at CSM and then transferring to the University of Maryland A. James Clark School of Engineering located at the Southern Maryland Higher Education Center to complete his final two years of studies. He is now employed with U.S. Naval Air Systems Command.
Mr. Naraine's son Jonathan, a Marine veteran, also attended CSM and received an associate degree in criminal justice before transferring to the University of Maryland to earn his bachelor's in the same field.
"This is a lot of fun, and this class keeps me young," laughed Mr. Naraine. "I go to school with my neighbor's kids!"
The new students welcomed this semester to CTET's programs are:
Calvert County
Tavarse Chew
Garrett Dove
William Knott
Bryan Rawlings
August Rowell
Dylan Takemori
Robert Taylor
Jody Thompson
Brendan Truitt
Joseph Vasquez
James Wilde
Charles County
Isaiah Alston
Angela Barnes
Thomas Berry
Stephen Brown
Bailee Campbell
Derrick Cunningham
Brelin Elliott
Eric Garcia Sanchez
Leonard Gary
Tyler Getgen
Carolyn Gillespie
Marcel Hammond
Jordan Hammonds
Jahnathian Harrison
Matthew Harrison
Cameron Hogue
Keyshaun Jones
Marquel Jones
Carroll Laws
Clifford Levins
James Mason
Keith Moss
Randall Myers
Roy Naraine
Cole Pepin
Kelvin Proctor
Charles Richardson
Aminatta Sesay
Walter Shaffer
Tyler Shotwell
Ryan Tamayo
Rico Thomas
Jacob Winkler
Washington, DC
St. Mary's County
Ryan Chan
Norman Clark
George Delozier
Alec Dobbins
Denise Donavon
Cornell Ford
Tanner Gilbert
Marcus Holt
Michael Lyons
Michael Mattingly
Kelly McGowan
Alexander Meath
Jeremy Murray
Khendall Nasman
Tyrone Nolan
Kevin Pickeral
Edward Pontzer
William Scales
Johnny Sipes
Eliot Willenborg
William Wood
The 74-acre Hughesville Campus provides offerings and programs to serve the entire region in a cost-effective and convenient way. The master plan for the regional campus, as designed and presented by Grimm and Parker Architects, is designed to create a sense of community and includes five phases of growth. Learn more about CSM's Regional Hughesville Campus at the college's website.
For more about the College of Southern Maryland, visit its Leader member page.