CSM Holds CyberAwareness Day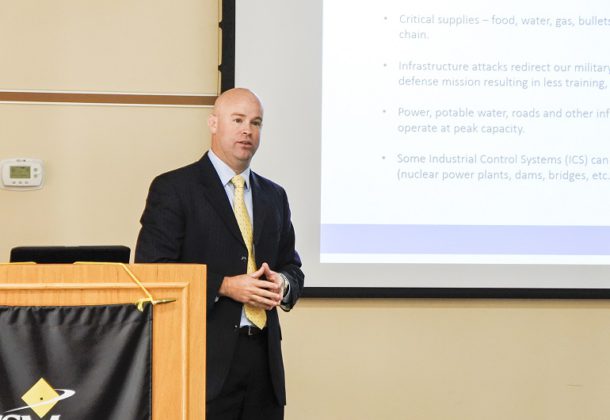 Mike Morgan, chief technologist at Booz Allen, was one of three speakers at the College of Southern Maryland Business and Technology (BAT) Division's cybersecurity career awareness event Oct. 13 at the La Plata Campus.
The four-hour presentation allowed visitors to hear from professionals working with local cybersecurity companies, participate in a panel discussion, and learn what it takes to become a cybersecurity professional.
Morgan spoke on "Cyber for Military Weapons Systems" and talked about the opportunities in the field. "These are high-demand jobs, well-paying jobs," he said. "They have a big impact on our nation's future and security."
Other speakers at the event were Samuel Oliver of the Counter Intelligence Directorate for Defense Security Service and Ken Wang, senior associate vice president for cyber at MIL Corp., who addressed "Offensive Cybersecurity."
"CyberAwareness Day was a great event for our students, our faculty, and our community. Bringing in speakers who are working in the field of cybersecurity provides a prospective regarding employment opportunities, pathways to these opportunities, and the work this field involves," said Wendy Hume Hayes, CSM's cybersecurity program coordinator. "I hope to be able to do this every year."
Whether you already have a college degree or are just thinking about preparing for a career in cybersecurity, the College of Southern Maryland has the classes to get students moving in the right direction.
The program in Cybersecurity (Information Systems Security) is a two-year associate of applied science degree. By taking classes through summer terms and January term, as well as getting credit for previously earned professional certifications, students can complete their program before traditional students. CSM also accepts transfer credits and has transfer agreements for our graduates to continue their education with UMUC's cybersecurity bachelor's degree and computer networks and security bachelor's degree.
Gain the foundational skills you need to be effective as an IT professional, or take what you know to the next level with our career development programs, including Certified Ethical Hacker, Certified Information Systems Security Professional (CISSP), Cisco Certified Network Associate (CCNA), CompTIA A+, CompTIA Network +, CompTIA Security +, (ISC)2 Continuing Professional Education, and Network Administrator.
For more information on classes, click here.
For more about the College of Southern Maryland, visit their Leader member page.