COPs Call for Community Involvement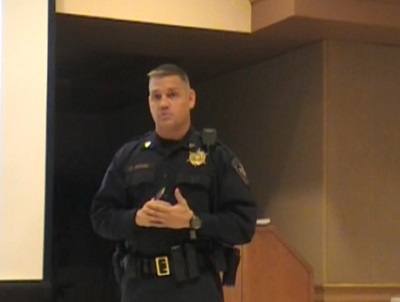 Posted for Lexington Park Business and Community Association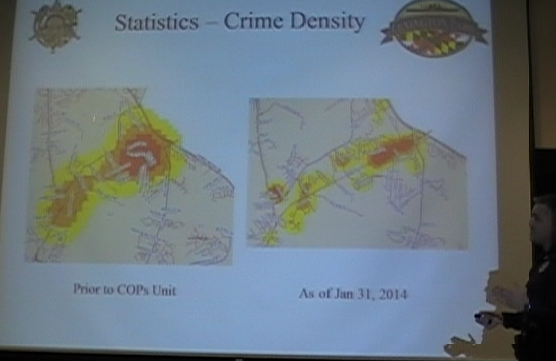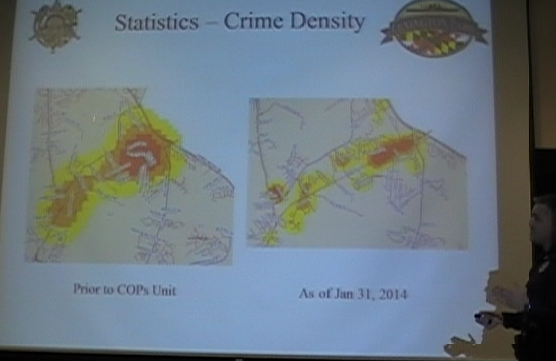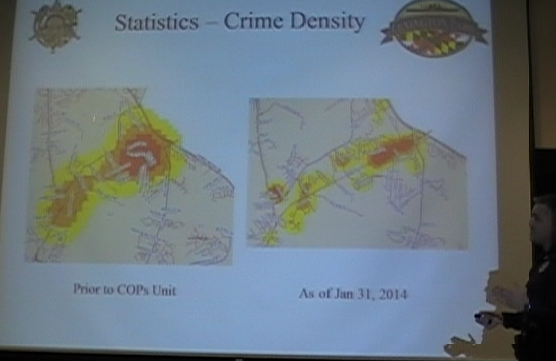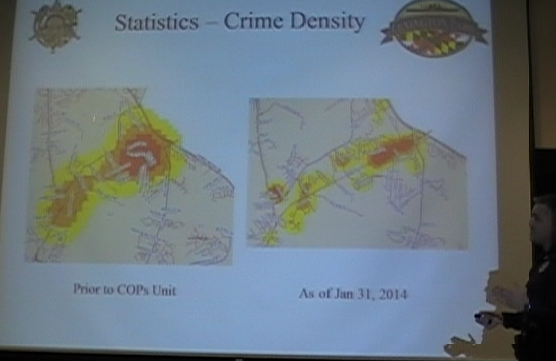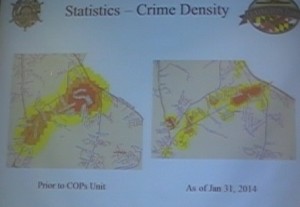 Bay Leader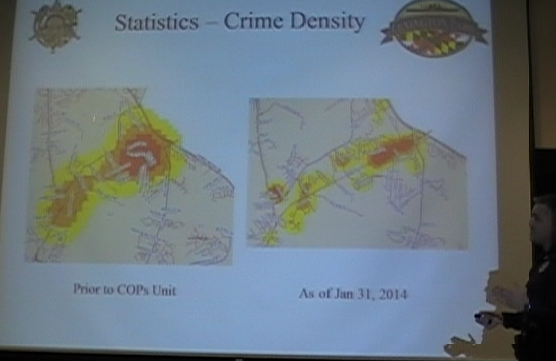 By Mallory Lengel
Lexington Park crime density maps show a significant decrease in crime since the inception of the COPs Unit, and community members are seeing the difference a dedicated police presence can make.
The Community Oriented Policing Unit kicked off on August 19, 2013, with six permanent positions. The unit operates out of its office on Willows Road, and covers Great Mills Road, the surrounding communities, and south to just past Mark's Automotive.
The area covered by the COPs Unit includes more than 150 businesses. By talking to businesses, the members of the COPs Unit were able to determine that most businesses' major concerns were disorderly and/or drunk citizens, pan handling and trespassing outside of businesses that deters customers.
"We are constantly trying to work with business owners and issue trespass orders," says Sergeant Clay Safford. Thirty-nine trespassing arrests have been made since mid-August.
The unit does more than enforce traffic violations and increase police presence and visibility. Each day, the COPs Unit can assess the needs of the community and adjust its plans accordingly. It works with the K9 Unit to perform scans, conduct foot patrols, and use ATVs to patrol power lines as well as mountain bikes to patrol footpaths and neighborhoods.
"We are very fortunate with our unit… that we can address the needs on any given day that we think are important to address," said Sergeant Safford.
Each member of the COPs Unit has been assigned as a point of contact for multiple neighborhoods in the community. A list of neighborhoods and their respective points of contact is located below. Community members are encouraged to help foster relationships between members of the COPs Unit and the community. Additionally, business owners play a key part in the success of the unit by reporting issues and keeping the lines of communication open.
As the weather warms, the officers plan on breaking out the bikes and getting even more in touch with the community members. Expect to see them at sporting and other community events as well. You can contact Sergeant Safford at [email protected] or (301) 481-9557).
[youtube=http://www.youtube.com/watch?v=cZ6Hm0XsAuM]
NEIGHBORHOOD POINT OF CONTACT LIST (alphabetical order)
Anita Ct. – DFC Snyder Bay Ridge – Deputy Beishline Carefree Way – Deputy Beishline Colony Square – DFC Snyder Columbia Commons – Deputy Wood Countryside – Cpl. Ray Glenn Forest – DFC Snyder Glouceter – Cpl. Ray Indian Way – Deputy Beishline Jay Dee Ct – Deputy Beishline Lex's Apartments – Deputy Krum Lexwood Drive – Deputy Beishline Liberty St – Deputy Wood Mayfair Apts – Deputy Beishline Patuxent Homes – Deputy Wood Queen Anne Apt – DFC Snyder South Essex – DFC Snyder Spring Valley – Cpl. Ray St. Clements Crossing – Deputy Krum Suburban Estates – Deputy Krum Valley Drive Estates – Cpl. Ray Westbury – Deputy Krum  
LPBCA sponsored by:
[adrotate group="13″]