College Is Certified as a Bee Campus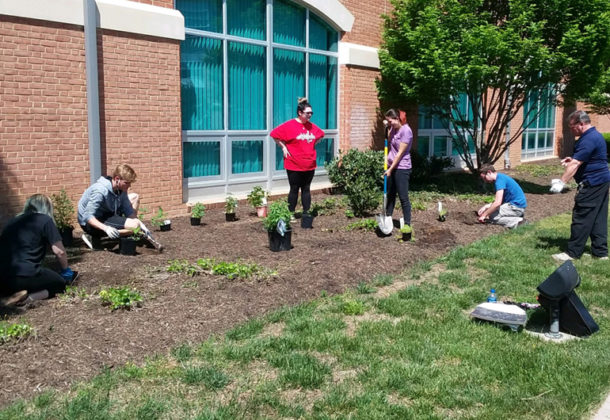 College of Southern Maryland students in Assistant Professor Lori Crocker's BIO 1070 course, including, from left, Sabrina Tolbert, Nicholas Johnson, Paige Stevens, Ariel Kilbourne, and Brandon McMahan, join Building and Grounds Technician Steve Kegley planting pollinator-friendly plants at the Prince Frederick Campus, as part of the college's commitment as a Bee Campus USA affiliate.
All four College of Southern Maryland campus sites enjoy beautiful landscaping with carefully tended shrubs, flowers, and more. From now on, though, the college is being more intentional with how it fills out its landscape as it is a newly certified affiliate of the Bee Campus USA Program.
Biology Professor Paul Billeter said the idea is to create a pollinator-friendly environment. Professor Billeter instigated CSM's effort to participate in the Bee Campus program. With its new plan, the college will foster habitat that encourages pollinator diversity and abundance — attracting bees, butterflies, and more helpful insects, plus birds and bats.
Replenishing a habitat like this in Southern Maryland means planting native species like bee balm and butterfly weed at the La Plata Campus. Golden Alexanders and lyre leaf sage will be planted at the Leonardtown Campus in the fall. New plantings are still being considered for the Regional Hughesville Campus, and the campus in Prince Frederick now has the largest new variety, including bee balm, calendula, lemon balm, black-eyed Susan, tansy, spirea, sweet Williams, dianthus, carpet roses, coreopsis, oregano, fall asters, tall phlox, oak leaf hydrangea, geranium, candy tuft, sedums, French lavender, and milkweed.
CSM got on board quickly with the idea of supporting pollinators, led largely by the college's biology department and Environmental Sustainability Committee, which is led by Vice President of Financial and Administrative Services Tony Jernigan.
By the end of last year, Professor Billeter was looking into insects to update a zoology lecture and found the website for Bee Campus USA. He went to Biological and Physical Sciences Chair Jean Russ and Division of Academic Affairs Vice President Dr. Eileen Abel about participating in the program, and they agreed. Professor Billeter then talked to Sam Droege, one of the state's most active bee researchers and a member of Bee Campus Advisory Board. He was doing research in Chile but talked to Professor Billeter the first week of January. The college formed a committee of staff, faculty, students, and administrators who came up with a plan and applied for membership. By April, Washington College in Chestertown and CSM's four campuses were the first Maryland colleges to join Bee Campus USA.
"The Biology Department and the Campus Sustainability Committee, along with most of the CSM community, are environmentally conscious," Professor Billeter said. "The immediate reason for the college's involvement is that reversing long-term human impacts and restoring degraded local ecosystems is important to us. On a different scale, two of the major requirements of participation in the program are planting pollinator-friendly gardens and educating the public. Gardening is the No. 1 hobby in the USA, and CSM is an important center of education in Southern Maryland."
"Imperiled pollinators are responsible for the reproduction of 90 percent of the world's wild plant and tree species," said Bee Campus USA director Phyllis Stiles. "CSM is a stellar example of the influence educational institutions can have on their students and the broader community. Their talented faculty, staff and students offer an invaluable resource for Southern Maryland residents in seeking ways to manage ornamental landscapes in more wildlife-friendly ways."
The plan for CSM's Bee Campus USA includes planting native, pollinator-friendly plants and a least-toxic integrated pest management plan, as well as ideas for events and student service-learning projects to enhance pollinator habitats.
CSM's planting blitz is being made possible, in part, by $1,000 provided by the college. Community partnerships have also helped with the new focus, and the college has been tapping into those to find green thumbs for help.
For instance, at the Prince Frederick Campus, milkweed was grown from seed in the lab by Assistant Professor Lori Crocker's students. "Lori and her students also helped to plant the original garden," said Student Success Coordinator Laura Robins. "A small assortment of wildflowers are [being incorporated in the campus'] landscaping, too, grown by the ladies in the front office — Office Manager Benita Sneade, Administrative Office Assistant Carol Ward and Administrative Office Assistant Marcia Kent. Vicki Geneva of the Calvert Garden Club donated several plants, and the general garden club donated some bee balm. Building and Grounds Technician Steve Kegley has tirelessly dug holes, dug up ivy, assembled a garden tool kit, set up a hose and sprinkler and tends the garden almost every day."
Professor Billeter said he has been shocked by the depth and breadth of enthusiasm for Bee Campus. "Bee Campus brings together every level of the CSM community, from the student government association to the office of the college president. We have also forged informal relationships with external groups with similar focuses. Efforts to protect and restore native flora and fauna are highly decentralized — from ardent gardeners cultivating native plants at their houses to the Soil Conservation District recently planting five acres of pollinator-friendly plants in Waldorf sponsored by the Chesapeake Bay Trust. The University of Maryland Extension Service, Master Gardeners, Audubon Society, local nurseries, Southern Maryland Beekeepers, and many others have generously offered support, advice, and encouragement."
Bee Campus USA is a partner of Bee City USA. Professor Billeter said he hopes some towns in Southern Maryland become Bee Cities USA and he hopes to recruit other Maryland colleges to Bee Campus USA as well. "We are planning a Bee-Honored program where supporters can be recognized for their contributions to our efforts," he said. "We will be seeking grants and the CSM Foundation, generously supported by individuals, businesses and organizations, is working with our fundraising efforts."
In the spirit of CSM's efforts to be as bee-friendly as possible, CSM Art Professor George Bedell is making bee habitats that will also be outdoor campus sculptures.
For information about the Bee Campus USA program and application process, visit The Bee City USA site.
For information on other ways CSM is pursuing environmental sustainability, visit CSM's environmental sustainability site.
For more about the College of Southern Maryland, visit its Leader member page.