Capt. Lemmon Assumes Command of Hawkeye Program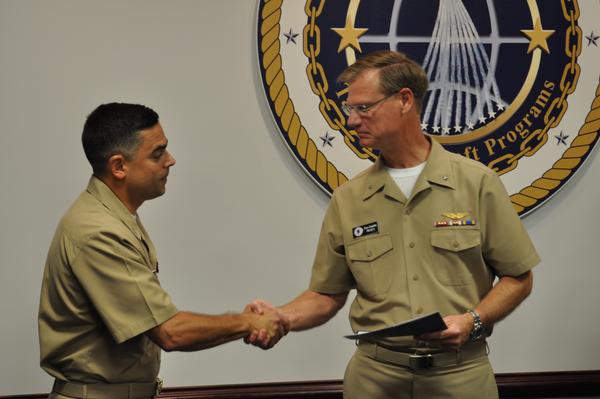 Members of the Hawkeye, Advanced Hawkeye and Greyhound Program Office (PMA-231) delivered a warm welcome to their new program manager during a ceremony May 29 at Naval Air Station Patuxent River.
Capt. John "Chet" Lemmon assumed PMA-231 program manager responsibilities from Capt. Shane Gahagan, who now leads the Air Warfare Mission Area/From the Air Program Office (PMA-298).
Rear Adm. Donald Gaddis, program executive officer for Tactical Aircraft Programs (PEO(T)), hosted the ceremony and signed the memo to the Sean Stackley, assistant secretary of the Navy for Research, Development and Acquisition, marking the leadership change.
PMA-231 provides the E-2C Hawkeye, E-2D Advanced Hawkeye, Hawkeye 2000 and the C-2A Greyhound fleet with acquisition strategy, logistics and sustainment solutions in support of the warfighter's mission.
Gahagan helped ensure the E-2D Initial Operational Test and Evaluation (IOT&E) was on time, with a mature aircraft weapon system, established best practices in ground and flight test and led a team responsible for $73 million in "should-cost" savings for the Navy's procurement of four lots of low-rate initial-production aircraft. He also assisted in saving $53 million in a streamlined training system for the fleet.
Under his program leadership, PMA-231 delivered 12 E-2C and 26 C-2A Communications/Navigation, Surveillance/Air Traffic Management (CNS/ATM) aircraft, and completed the service life-extension program for 26 C-2A aircraft.
Lemmon returned to PMA-231 in 2010 as the E-2D integrated product team co-lead after an individual augmentation tour to the Horn of Africa as the commander of Task Group 67.8.
Lemmon's ashore tours include several acquisition assignments to PEO(T). He also served as military deputy product manager for E-2 and C-2 programs and later as strategic business team leader (production officer) at the Naval Air Depot, North Island, Calif. He was chief test pilot and commanding officer of Air Test and Evaluation Squadron (VX) 20.
During operational tours with Carrier Airborne Early Warning Squadron (VAW) 122 and Carrier Airborne Early Warning Squadron (VAW) 124, Lemmon flew the Hawkeye with his squadron assigned to USS Forrestal (CV 59) and USS Theodore Roosevelt (CVN 71). He served as assistant maintenance officer, safety officer and maintenance officer with Carrier Airborne Early Warning Squadron (VAW) 123 and deployed with USS John F. Kennedy (CV 67).
Lemmon is a graduate of the U.S. Naval Academy and U.S. Test Pilot School. He has flown more than 3,400 hours in more than 25 aircraft.
Lemmon's decorations include three Meritorious Service Medals, four Navy and Marine Corps Commendation Medals and three Navy and Marine Corps Achievement Medals.
Source: PEO(T) Public Affairs