AF's F-35 Shows Its Stuff at Combat Exercise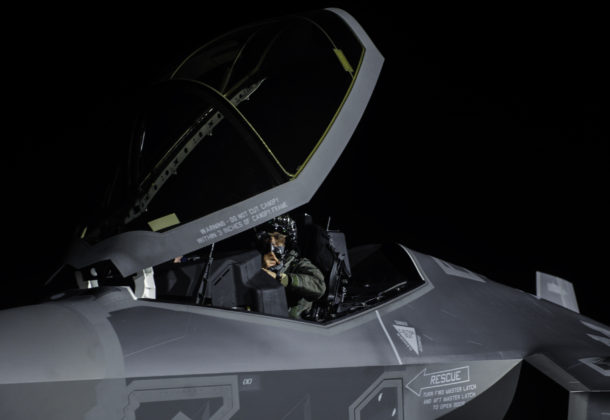 Morning Coffee is a robust blend of links to news around the Internet concerning the Naval Air Station Patuxent River

economic community. The opinions expressed here do not reflect opinions of the Leader's owners or staff.
The Red Flag air combat exercise began last month at Nellis Air Force Base in Nevada and featured more than 80 warplanes and support aircraft. Among those planes were the F-35A Lightning II and the F-18 Super Hornet.  Lt. Col. George "Banzai" Watkins, commander of the F-35As from the 34th Fighter Squadron, declined to compare "apples and oranges" of the radar-evading joint strike fighters with the Navy's non-stealthy F-18, reports the Las Vegas Review-Journal. The AF's variant of the F-35 is doing "very, very well" at its first Red Flag, the Washington Examiner reports, where the jet is facing advanced threats. Last week, the Defense Department called for a review that compares the two planes.
U.S. Sens. Ben Cardin and Chris Van Hollen (both D-Md.) have signed on as original cosponsors to the Federal Adjustment of Income Rates, or FAIR, Act, a bill that would provide federal employees with a 3.2 percent pay increase in 2018, Baynet.com reports. The bill is designed to boost the pay of federal workers, who have endured $182 billion in cuts to pay and benefits through pay freezes, substandard pay raises, furloughs, and increased pension contributions.
Defense contractors descended last week on the USMC's trade show at Camp Pendleton in California "showing off everything from drones that can fit in the palm of your hand to machine-guns that can blast a target with 200 rounds of 30mm ammo in under a minute," Business Insider reports. On display was the latest and greatest in military technology.
Crisfield, on Maryland's lower Eastern Shore, is set to be the first municipality in the Delmarva region powered by a windmill. The turbine is expected to feed more electricity into Delmarva Power and Light's grid than it takes to run the sewer plant, street lights, city hall, a fire station, a senior center, and library, Delmarva Public Media reports.
Secretary of State Rex Tillerson began his first day on the job Thursday, The Washington Post reports, by assuring career diplomats that he values and will support their work. He also said he might make some changes and he expects the employees to get behind the new administration.
Military Times reports that President Donald Trump has been making waves on the foreign policy front, leaving Tillerson and other Cabinet members to step in to "clean up a lot of potential damage. It's a good-cop, bad-cop dynamic that could define America's foreign policy for the next four years."
Patrick Ryder, Air Force spokesman, said the AF wants to add five more fighter squadrons, Popular Mechanics reports. He said the Air Force had 134 fighter squadrons in 1991, and that number has since declined to 55.
The Naval Air Warfare Center Weapons Division completed in December a demonstration of its developing Spike missile, UPI.com reports. During the testing, an "outlaw" unmanned aerial vehicle was destroyed with one shot. The Spike missile was developed in response to needs that arose during the invasion of Iraq, the report states.
Defense News reports the Indian navy has solicited a request for information to procure 57 multirole fighters for its aircraft carriers. The estimated price tag is $15 billion. This request comes as that country's own version of a light combat aircraft didn't meet the navy's requirements.
The US State Department has approved Sidewinder and Maverick missile purchases by South Korea, UPI.com reports.
Gina Haspel becomes the first female career CIA officer to be appointed to the deputy director post with the agency, ExecutiveGov.com reports. She is the former deputy director of the National Clandestine Service and has been with the CIA since 1985.
The Defense Department has exempted certain civilian positions from the federal hiring freeze, ExecutiveGov.com reports. Among the exemptions: those serving in roles that support contingency missions; scheduled military operations; security cooperation exercises; cyber, intelligence, and space operations or planning; and health care activities.
Army Times reports the Army's infantry school in Fort Benning, Georgia, welcomed its first class of 11X basic trainees, more than a year after the Defense Department lifted the ban on women serving in combat occupational specialties.
Contracts:
Cardinal Health 200 LLC, Waukegan, Illinois (SPE2DS-17-D001), $2,250,000,000; and Owens and Minor Distribution Inc., Mechanicsville, Virginia (SPE2DS-17-D002), $1,125,000,000, have each been awarded a firm-fixed-price, indefinite-delivery/indefinite-quantity contract under solicitation SPE2DS-16-R-0001 for the Medical Surgical Prime Vendor Generation V program, which provides worldwide ordering and distribution of consumable, commercial, brand name and generic medical surgical supplies. These were competitive acquisitions with six offers received. They are 30-month base contracts with an up to five-month implementation period and three 30-month option periods. Locations of performance are Alabama, Alaska, Arizona, California, Colorado, Florida, Georgia, Hawaii, Illinois, Indiana, Iowa, Kentucky, Louisiana, Maryland, Massachusetts, Michigan, Minnesota, Mississippi, Missouri, Nebraska, New Jersey, New Mexico, New York, North Carolina, Ohio, Oklahoma, Oregon, Pennsylvania, Tennessee, Texas, Utah, Virginia and Washington, with a Dec. 6, 2019, performance completion date. Using customers are Army, Navy, Air Force, Marine Corps, Coast Guard, and federal civilian agencies. Type of appropriation is fiscal 2017 through 2019 defense working capital funds. The contracting activity is the Defense Logistics Agency Troop Support, Philadelphia, Pennsylvania.
Science Applications International Corp., McLean, Virginia, was awarded a $72,798,399 cost-plus-fixed-fee contract for all activities necessary to provide enterprise-wide systems sustainment, management, enhancement, development and integration services for the lifecycle administration, management and deployment functions of the Army Human Resources Command and Active, Reserve, Guard, Retired, and other personnel, Soldier's career pay and benefits. Bids were solicited via the Internet with one received. Work will be performed at Fort Knox, Kentucky, with an estimated completion date of Feb. 5, 2018. Fiscal 2017 operations and maintenance (Army) funds in the amount of $9,672,814 were obligated at the time of the award. Army Contracting Command, Rock Island Arsenal, Illinois is the contracting activity (W52P1J-17-F-4010).
Orbital Sciences Corp., Dulles, Virginia, has been awarded a $78,176,000 undefinitized contract action for Space Test Program Satellite-6 (STPSat-6) spacecraft integration and testing. Contractor will provide integration and early on-orbit support of the Department of Defense STPSat-6 space vehicle. Work will be performed at Dulles, Virginia; and Cape Canaveral, Florida, and is expected to be complete by Aug. 15, 2021. This award is the result of a sole-source acquisition. Fiscal 2017 research, development, test, and evaluation funds in the amount of $17,806,766 are being obligated at the time of award. Space and Missile Systems Center, Kirtland Air Force Base, New Mexico, is the contracting activity (FA8817-17-C-0001).