Acoustic Music Assembly Returns to Annmarie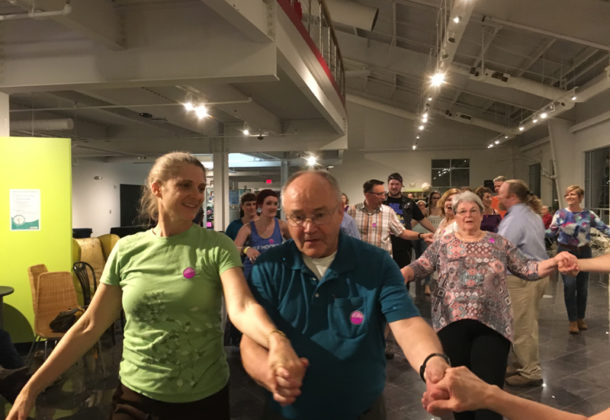 June 10 will be an incredible day to experience Annmarie Sculpture Garden and Art Center. The second annual Southern Maryland Acoustic Music Assembly is set that day from 1 to 9 pm, and the entire garden will be jamming.
The day will start with afternoon song circles and acoustic jamming from 1 to 4:30 pm. The circles are for everyone – all abilities and musical genres – so bring your favorite instruments and/or favorite songs to share, or just come to listen and enjoy the day. Have a lasagna dinner in the evening while you listen and dance to and a concert jam with four bands – David Norris & Shadowbox, Kevin Herren Group, Hangman's Faire, and Jordana Nye & Friends. Then, stick around for contra dancing led by caller Greg Frock & The Southern Maryland Open Band.
Southern Maryland Acoustic Music Assembly will be a great opportunity to sing, play, dance, and listen to different kinds of music while meeting other musicians from Southern Maryland and beyond.
This family-friendly event is open to all ages, abilities, and acoustic genres. There will be activities inside and outside, taking full advantage of the space offered in this beautiful venue. If it rains, all activities will be moved indoors. Attendees can purchase light snacks, drinks, wine, and beer throughout the day. The lasagna dinner will be served in the evening; please call 410-326-4640 to make a reservation. Admission to the event is $5 for adults, $4 for seniors and military, $3 for youth; kids 5 and younger are admitted free. Co-hosts of the event include Annmarie Garden, Calvert Library, and Southern Maryland Traditional Music & Dance.
For more information, call 410-326-4640 or email [email protected].
About Annmarie Garden
An affiliate of the Smithsonian Institution, Annmarie Sculpture Garden & Arts Center is in scenic Solomons, Maryland, on the Chesapeake Bay. Annmarie Garden is located just off Route 2/4, on Dowell Road.
The sculpture garden features a walking path that meanders through the forest past permanent and loaned sculpture, including more than 35 works of art on loan from the Smithsonian Institution and the National Gallery of Art. Annmarie also presents a variety of award-winning special events, rotating gallery shows, and engaging public art programs. Annmarie's Studio School offers creative classes for all ages and abilities taught by a talented faculty.
To learn more about Annmarie Garden, visit its Leader member page.