Pax River Almost Lost Its Security Card Machines

Morning Coffee is a robust blend of links to news around the Internet concerning the Pax River economic community. The opinions expressed here do not necessarily reflect those of the Leader's owners or staff.
In today's blog entry, NAWCAD commander Rear Adm. Randy Mahr praises three computer technicians for repairing Pax River's only two CAC encoding machines and "averting near catastrophe" of a $12,000 replacement cost.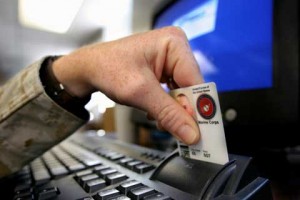 Navy kicks off new jammer pod competition (paywall), according to Inside Defense.
Pentagon could be looking at charging more for Tricare in order to free up procurement dollars, according to Aviation Week. US News says most junior enlisted troops wouldn't mind.
CNN says the fear of defense cuts is a fear factor on the campaign trail. Six GOP Senators say that would consider closing a few tax loopholes to raise more revenue. The Hill says the Senate expects a vote on its defense spending bill by the end of the month, but Defense Daily says it could be September before Congress finishes work on its defense bills (paywall). Washinton Technology suggests eight tools for surviving sequestration.
Lockheed says the Dutch vote against the F-35 hasn't killed the order, Bloomberg reports. AOL Defense says the vote was meaningless posturing before the next election. Meanwhile, the Joint Strike Fighter program is readying for its first bomb drop, Aviation Week reports.
At the Farnborough Air Show, DoD Buzz analyzes the happy talk surrounding the V-22 Osprey, and FlightGlobal sees Boeing trying to drum up interest in foreign sales of the P-8A Poseidon.