UCLASS Funding Restricted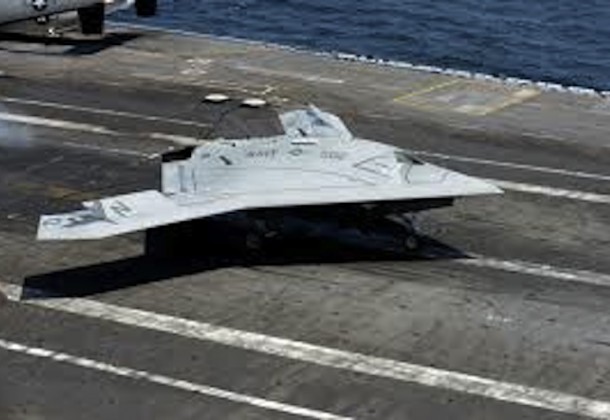 Morning Coffee is a robust blend of links to news around the internet concerning the Naval Air Station Patuxent River economic community. The opinions expressed here do not necessarily reflect those of the Leader's owners or staff.

Funding restrictions for the Navy's planned Unmanned Carrier-Launched Airborne Surveillance and Strike (UCLASS) program are specified in the 2015 compromise defense bill over concerns the platform would lack sufficient stealth, survivability and weapons payload, reports USNI News. The budget would reduce Navy spending until the completion of a Pentagon review. The Navy's FY 2015 budget submission included $403 million to further develop the UCLASS program.
The DoD's new cloud procurement policy is slated for an early December release, according to DefenseNews. The new policy will divest authority from the Defense Information System Agency to the contracting officers at each branch and agency within DoD.
The first of a possible 70 Northrop MQ-8C Fire Scout unmanned helicopters was delivered to the Navy last week, reports IHS Janae's 360. The MQ-8C has double the endurance and three times the payload capacity of the B-model and is equipped to conduct ship-based intelligence, surveillance, and reconnaissance (ISR) missions.
Tests of the first hub in the DoD's network consolidation effort have been successful, reports C4ISR&Networks. The Pentagon is concentrating sprawling, disparate networks into a streamlined, standardized, defendable and cost-effective structure.
A civilian working for the Navy was arrested last week for attempting to sell technical information about the nuclear aircraft carrier USS Gerald R. Ford to an agent of the Egyptian government, reports Navy Times. The agent, however, was a federal undercover agent working for the FBI.
Sen. Tim Kaine (D-Va., a member of the Senate Armed Services Committee, believes that Congress won't be able to completely eliminate sequestration, reports The Hill. "We couldn't get the votes. So we're trying to reduce it as much as possible," he said. Sequestration budget caps that resulted from the Budget Control Act of 2011 are set to return in fiscal 2016. If Congress appropriates more than those limits, automatic spending cuts will return.
The Navy's infrared search and track (IRST) system received Milestone C acquisition approval, authorizing low-rate initial production (LRIP) of the sensor pod, according to NAVAIR News. LRIP authorization provides the Navy's IRST program with the six pods needed to achieve future initial operational capability (IOC). The IRST system, managed by NAVAIR's F/A-18 & EA-18G Program Office (PMA-265), is a long-wave infrared sensor pod that searches for, identifies and tracks heat sources at extended ranges.
NAS: Pax River released a solicitation asking industry to design an improved sonar cable for the dipping sonar system on the Navy's MH-60R shipboard anti-submarine warfare helicopter to correct deficiencies in existing cable, according to Military & Aerospace.
BTL Technologies, Inc.,* San Antonio, Texas (N62645-15-D-5001); Loyal Source Government Services, LLC,* Orlando, Florida (N62645-15-D-5003); MD Consulting, LLC,* Waldorf, Maryland (N62645-15-D-5004); Vysnova Partners,* Frederick, Maryland (N62645-15-D-5005); Washington Harris Group, Inc.,* Greenbelt, Maryland (N62645-15-D-5006); and Wisestaff, LLC,* Houston, Texas (N62645-15-D-5007),  are each being awarded a 42-month, firm-fixed-price, indefinite-delivery/indefinite-quantity, multiple award task order contract for various physician services to include a few Allied Health labor categories at military treatment facilities in the Northeast Region of the United States.  The aggregate not-to-exceed amount for these multiple award contracts combined is $96,732,599 and the companies will have the opportunity to bid on each individual task order.   Work will be performed in the Naval Medical Center Portsmouth, Virginia (86 percent); Naval Health Clinic Annapolis, Maryland (2 percent); Naval Health Clinic Great Lakes, Illinois (2 percent); Naval Health Clinic Newport, Rhode Island (1 percent); Naval Health Clinic Patuxent River, Maryland (1 percent); Naval Health Clinic Quantico, Virginia (4 percent); Naval Branch Health Clinic Groton, Connecticut (1 percent); Naval Branch Health Clinic Portsmouth, New Hampshire (1 percent); Naval Branch Health Clinic Saratoga Springs, New York (1 percent); and any associated branch clinics in the Northeast Region of the United States (1 percent).  Work performed under these contracts is expected to be completed Sept. 30, 2018.  Fiscal 2015 Defense Health Program funds in the amount of $7,195,193 will be obligated at the time of award under initial task orders, and the funds will expire at the end of the fiscal year.  Funding is predominantly from the Defense Health Program; however, other funding initiatives such as psychological health/traumatic brain injury; overseas contingency operations; and wounded, ill, and injured may be used.  These are all one-year funding types.  These contracts were solicited via a multiple award electronic request for proposals as a 100 percent service-disabled veteran-owned small business set-aside; 27 offers were received.  The Naval Medical Logistics Command, Fort Detrick, Maryland, is the contracting activity.