Turkey's F-35 Purchase Blocked by NDAA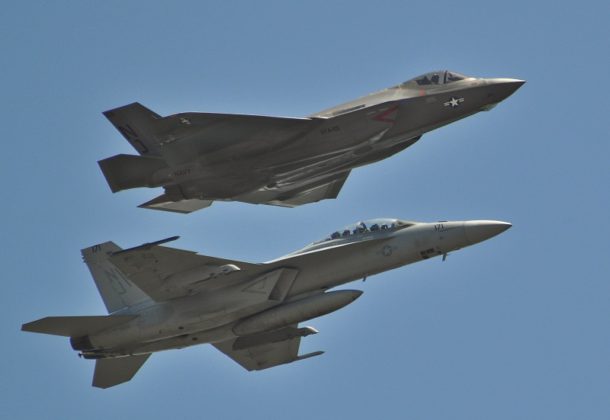 Morning Coffee is a robust blend of links to news around the internet concerning the Naval Air Station Patuxent River

economic community. The opinions expressed here do not reflect opinions of the Leader's owners or staff.
President Donald Trump  signs the $716 billion annual defense policy bill, reports The Hill, the earliest the annual National Defense Authorization Act has become law in more than four decades.
The FY19 NDAA is also holding up the transfer of 100 F-35 fighter jets to Turkey, reports ForeignPolicy.com, deepening a rift between the two countries and complicating matters for the F-35. The main European hub for the F-35's engine repair and overhaul is in Turkey and key components of the jet are manufactured by Turkish companies. DoD estimates two years are needed to find and qualify new suppliers.
The diplomatic row may also jeopardize a $1.5B helicopter deal between Turkey and Pakistan, reports Defense News.  The problem with the deal  for the sale of 30 Turkish-made T129 ATAK helicopter gunships is related to US-made parts which will require US export licenses, a Turkish aerospace official said.
DefSec Jim Mattis  defends his reversal on Space Force, says it's the right thing to do, reports the Military Times.  "I was not against setting up a Space Force. "What I was against was rushing to do that before we could define the problem" that needed solving.
Reporters with CNN and the BBC had a rare opportunity to see the islets in the Spratly chain of the South China Sea aboard a P-8A Poseidon, and also heard warnings from the Chinese military, telling them they were inside Chinese territory and urging them to leave, reports Military Times.
Chinese People's Liberation Army Navy ships drilled in the East China Sea last weekend, honing skills and practicing countering missile threats from rivals like Japan, the US, and other potential combatants, reports Business Insider. ECNS reports more than 10 naval vessels from three different command theaters participated in an air-defense and anti-missile live-fire exercise.
The debate over how to stop wildfires from razing the western states continues to smolder reports The Washington Times. Interior Secretary Ryan Zinke says the wildfires have "nothing to do with climate change. This has to do with forest management."
Northrop Grumman has successfully installed an APG-83 Scalable Agile Beam Rader on a U.S. Marine Corps F/A -18C Hornet, reports UPI.
Pentagon invites researchers to hack the Marine Corps, reports the Fifth Domain. The DoD launched its first bug bounty, Hack the Pentagon, in May 2016, reported Federal Times.
The Coast Guard's fast response cutter Forrest Rednour arrives at its new California home, marking the first of four of the multi-mission cutters to be homeported at Coast Guard Base Los Angeles-Long Beach, CA., reports USNI.
The US Air Force has released video highlights from an overhead intelligence, surveillance, and reconnaissance aircraft that shows the final heroic moments of Tech Sgt. John Chapman.  Task and Purpose reports that he will receive the Medal of Honor for his bravery later this month. Chapman charged multiple machine-gun nests and engaged in hand-to-hand combat on the 10,000-foot peak known as Takur Ghar in Afghanistan during Operation Anaconda.
Contracts:
Adams Communications & Engineering Technology, Waldorf, Maryland; Alion Science & Technology Corp., McLean, Virginia, BAE Systems Technology Solutions & Services Inc., Rockville, Maryland; Battelle Memorial Institute, Columbus, Ohio; Booz Allen Hamilton Inc., McLean, Virginia; CSRA LLC Washington, District of Columbia; Engility Corp., Chantilly, Virginia; Georgia Tech Applied Research Institute, Atlanta, Georgia; Leidos, Reston, Virginia; MacAulay-Brown Inc., Dayton, Ohio; ManTech International Corp., Fairfax, Virginia; Raytheon Co., El Segundo, California; Southwest Research Institute San Antonio, Texas; URS Federal Services Inc., Germantown, Maryland; and Wyle Laboratories Inc., Huntsville, Alabama, have each been awarded a maximum $28,000,000,000 indefinite-delivery/indefinite-quantity (ID/IQ), multiple award research and development contract for the competed Information Analysis Center multiple award contract for Defense Technical Information Center. Because this is an ID/IQ, the location of performance is not known at this time and will be cited on individual delivery orders. Generally, work will be performed at government facilities and is expected to be completed Sept. 29, 2027. For Pool 1 unrestricted full and open, the 15 contractors may compete for task orders valued over $15 million under the terms and conditions of the awarded contract. Fiscal 2018 and 2019 research and development funds in the amount of $54,000 will be obligated at the time of award for the minimum-order guarantee. This contract was competitively procured via request for proposal and publication on the Federal Business Opportunities website. Air Force Installation Contracting Agency, Offutt Air Force Base, Nebraska, is the contracting activity (FA8075-17-R-0001).
George Mason University, Fairfax, Virginia, has been awarded a $60,469,599 cost contract for hardware and software. The objective of this effort is to use existing infrastructure and proven technologies to leverage, build upon and augment the capabilities of the Mobile Unmanned/Manned Distributed Lethality Airborne Network architecture. Work will be performed in Fairfax, Virginia, and is expected to be completed by Aug. 14, 2022. This award is the result of a competitive acquisition; offers were solicited electronically via an open broad agency announcement and two offers were received. Air Force Research Laboratory, Rome, New York, is the contracting activity (FA8750-18-C-0129).
BAE Systems Technology Solutions & Services Inc., Rockville, Maryland, is awarded a $68,910,181 cost-plus-fixed-fee, firm-fixed-price term level of effort indefinite-delivery/indefinite-quantity contract.  This contract provides for approximately 803,510 man-hours of support services for the integration and product support for Command, Control, Communications, Computers, Combat Systems, and Intelligence, Surveillance, and Reconnaissance Systems in support of the Naval Air Warfare Center Aircraft Divisions' Special Communications Mission Solutions Division (AD-4.11.4).  Work will be performed in St. Inigoes, Maryland (70 percent); and Jacksonville, Florida (30 percent), and is expected to be completed in August 2023.  No funds are being obligated at the time of award; funds will be obligated on individual orders as they are issued.  This contract was competitively procured via an electronic request for proposals, with two offers received.  The Naval Air Warfare Center Aircraft Division, Patuxent River, Maryland, is the contracting activity (N00421-18-D-0059).
The Boeing Co., St. Louis, Missouri, is awarded $40,001,192 for modification P00023 to a previously awarded fixed-price-incentive contract (N00019-17-C-0003) for the procurement of spare parts in support of F/A-18 aircraft for the Navy.  Work will be performed in Bloomington, Minnesota (86.1 percent); Linthicum, Maryland (13.6 percent); and Irvine, California (0.3 percent), and is expected to be completed in August 2020.  Fiscal 2018 aircraft procurement and working capital funds (Navy) in the amount of $40,001,192 are being obligated at time of award, none of which will expire at the end of the current fiscal year.  The Naval Air Systems Command, Patuxent River, Maryland, is the contracting activity.