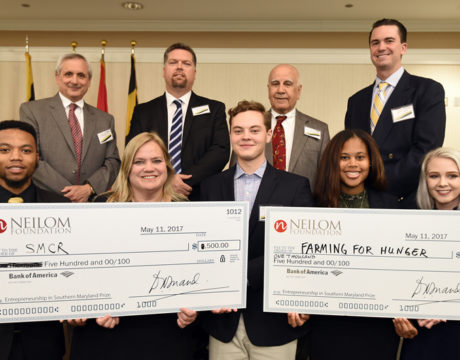 College of Southern Maryland students are learning that an idea is more likely to succeed if their business is designed to help the wider community as well as to make money, says Thomas Luginbill, director of CSM's Entrepreneur and Innovation Institute.
Category Business · Tags Bernie Fowler Jr., Bonnie Elward, Caryn Fossile, College of Southern Maryland, college-southern-maryland, CSM, Dr. Davinder Anand, Entrepreneur and Innovation Institute, Farming4Hunger, Jermey Forris, Jordan Gandee, Jordan Johnson, Kaelyn Ching, Social Entrepreneurship Challenge, social entreprenuership, Thomas Luginbill, VConnections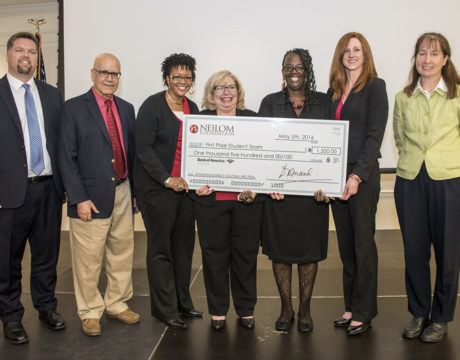 Students at the College of Southern Maryland went far beyond their classrooms and into the community during Dr. Mary Beth Klinger's Principles of Management course last spring. The students took on the Southern Maryland Social Entrepreneurship Challenge, spending a semester forming teams to pinpoint the region's problems and innovating their potential solutions.
Category Community News · Tags Aidan Dollins, Alex Looman, AnnaBelle Saunders, Atorria Moore, Brenda DiCarlo, Cala Collins, Center for Engineering Concepts Development, College of Southern Maryland, college-southern-maryland, CSM, CSM Entrepreneur and Innovation Institute, Davinder K. Anand, Dr. Mary Beth Klinger, Dylan Hazelwood, Erica Martin, Erik Eaton, Gail Perry, Gilbert McCoy, Jarett Loeffler, Justin Brown, Justin Thomas, Katie Weber, Lisa Dixson, Mark Ledvinka, Melana Krivitsky, Nathan Hurry, Paige King, Pam Toye, performance series, Rachel Dorsey, Sam Kuss, Shubham Malik, social entreprenuership, Southern Maryland Social Entrepreneurship Challenge, Thomas Luginbill, Zeidi Chleuh