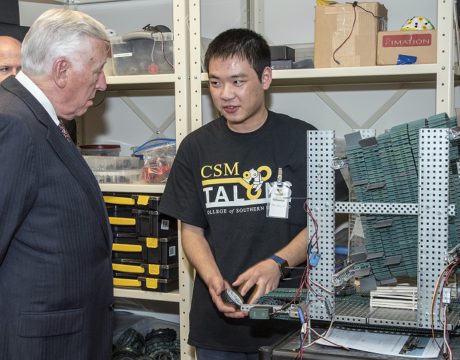 Three College of Southern Maryland robotics students might have just found a way to help a local oyster business get its work done more quickly and more efficiently.
Category Business & Tech, Leader Features · Tags College of Southern Maryland, college-southern-maryland, Congressman Hoyer, Congressman Steny H. Hoyer, CSM, CSM Entrepreneur and Innovation Institute, csm robotics, CSM Talons, Dillon Mandley, George Jenkins, Nicholus Steward, Steny Hoyer, Susan Cox, Thomas Luginbill, Wen Xing Lin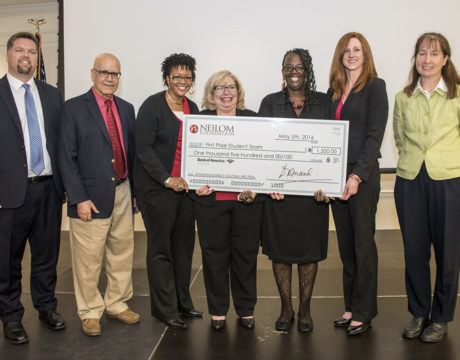 Students at the College of Southern Maryland went far beyond their classrooms and into the community during Dr. Mary Beth Klinger's Principles of Management course last spring. The students took on the Southern Maryland Social Entrepreneurship Challenge, spending a semester forming teams to pinpoint the region's problems and innovating their potential solutions.
Category Community News · Tags Aidan Dollins, Alex Looman, AnnaBelle Saunders, Atorria Moore, Brenda DiCarlo, Cala Collins, Center for Engineering Concepts Development, College of Southern Maryland, college-southern-maryland, CSM, CSM Entrepreneur and Innovation Institute, Davinder K. Anand, Dr. Mary Beth Klinger, Dylan Hazelwood, Erica Martin, Erik Eaton, Gail Perry, Gilbert McCoy, Jarett Loeffler, Justin Brown, Justin Thomas, Katie Weber, Lisa Dixson, Mark Ledvinka, Melana Krivitsky, Nathan Hurry, Paige King, Pam Toye, performance series, Rachel Dorsey, Sam Kuss, Shubham Malik, social entreprenuership, Southern Maryland Social Entrepreneurship Challenge, Thomas Luginbill, Zeidi Chleuh