CSM Students Learn Compassion With Business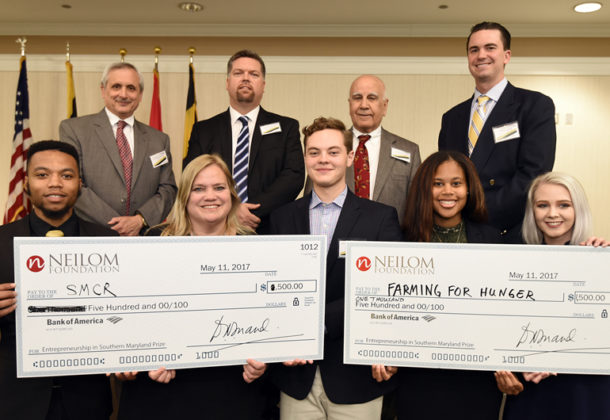 Winners of second place at the CSM Social Entrepreneurship Challenge, in front from left, are Jermey Forris, Caryn Fossile, and Jordon Gandee. The first-place winners of the event are Jordan Johnson and Kaelyn Ching. Behind from left are CSM President Dr. Brad Gottfried, University of Maryland CECD Assistant Director Dylan Hazelwood, CECD Director Dr. Davinder K. Anand, and CSM Entrepreneur and Innovation Institute Director Thomas Luginbill.
The most successful businesses are the ones that focus on more than the bottom line. College of Southern Maryland students are learning that an idea is more likely to succeed, in fact, if their business is designed to help the wider community as well as to make money, according to Thomas Luginbill, director of CSM's Entrepreneur and Innovation Institute, bringing compassion to the business model.
"I think there's a lot of college business classes that focus on earning profit. But there aren't that many that teach students about the value of the business providing social value to the community," Mr. Luginbill said. "If you start off with a business only thinking about the bottom line, things will collapse quite quickly. They're starting to find that businesses that incorporate some social mission are actually finding a correlation with higher returns. It's good business."
This concept is the idea behind CSM's Social Entrepreneurship course, which Mr. Luginbill taught during the spring semester. His students had the chance to exercise their altruistic muscles as they applied business principles to challenges that face half a dozen organizations with a central mission of helping society — five nonprofits and one for-profit with a social mission. As the course began, organizations applied to partner with the college and students selected the organization they would study for the semester, then designed a project to help that organization.
The students worked in groups and then presented their projects during CSM's Social Entrepreneurship Challenge on May 11, 2017, at the La Plata Campus. The students, however, were looking for more than a grade: they also were competing for $2,000 — $1,500 for first place and $500 for second — in funding of the two projects judged by a panel as best assisting the most people. The funding came from the generosity of the Neilom Foundation.
The winning project was created by Kaelyn Ching of Charlotte Hall and Jordan Johnson of Waldorf, who made the case that funding should be provided for Farming4Hunger and the nonprofit's second annual athlete student summit, Living Beyond the Game. The two-day summit is for Southern Maryland Athletic Conference athletes and is designed to promote team-building and encourage discussion about consequences of choices.
"It's about making smart choices," said Bernie Fowler Jr., founder of Farming4Hunger, who attended the presentations. In addition to youth programs, Farming4Hunger partners with the Maryland Food Bank "Mobile Pantry" program and works with prisoners who are on work-release to grow vegetables, then package and distribute fresh produce for residents in Southern Maryland.
Ms. Ching and Ms. Johnson became invested in their group during the semester and were relieved that their organization was awarded the funding. They said they spent a lot of time working with the nonprofit outside of the class, even volunteering to tutor prisoners on work release.
"I learned a lot about how much politics and business goes hand-in-hand and the struggles of a nonprofit," Ms. Johnson said.
"It was a lot of work. But it was well worth it," Ms. Ching said.
The second-place project was created for SMCR, formerly known as Southern Maryland Community Resources, which provides inclusive programs for people with developmental differences at minimal cost. CSM students Caryn Fossile of Huntingtown, Jermey Forris of La Plata, and Jordon Gandee of La Plata worked with CSM digital media production students, producing a public service announcement for the organization. The team also campaigned for funding that will help SMCR expand into Calvert County.
"It's a bridge. It helps both those with developmental differences and those without," said Bonnie Elward, executive director of SMCR.
"It's just been so amazing," Ms. Fossile said of the class. "I never realized the value of networking. This has been an amazing experience."
Other organizations that worked with CSM students in the class were Circle of Angels, DigiTouch, Kids Into Discovering Science, and VConnections Inc.
Grant money for the Social Entrepreneur class, which covered full scholarship for tuition, fees and textbooks, came from the Center for Engineering Concepts Development in the Department of Mechanical Engineering at the University of Maryland.
"I'm very happy to see this collaborative arrangement with the College of Southern Maryland not only succeed, but thrive," said Dr. Davinder K. Anand, director of the CECD and professor emeritus of mechanical engineering at UMD. Dr. Anand created a program at UMD in which engineering students apply problem-solving and technological skills to challenges that face nonprofits. The Social Entrepreneurship course at CSM was based on Dr. Anand's ideas and design.
For information on the Entrepreneur and Innovation Institute at CSM, visit CSM's website.
To view a gallery of photos from the event, visit the college's photo sharing site.
For more about the College of Southern Maryland, visit its Leader member page.