SMECO Bike Ride to Benefit Operation: Tohidu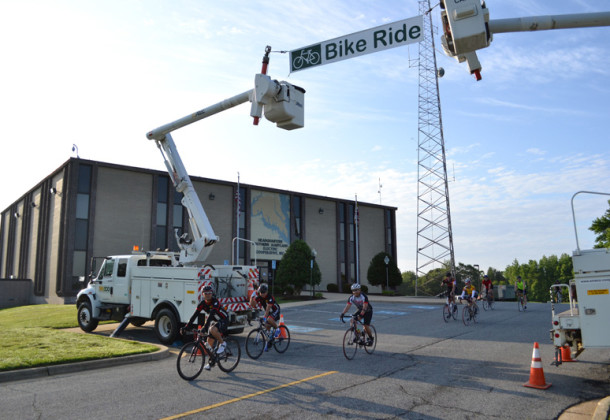 Southern Maryland Electric Cooperative employees will host their fifth annual bike ride June 4, 2016. Three bike routes of 29, 47, and 75 miles will start in Hughesville at the SMECO headquarters and go as far as Colton's Point in St. Mary's County.
Profits from the bike ride will be donated to Melwood's Operation: Tohidu.
Operation: Tohidu is a program for active duty military personnel and veterans who need help integrating into the community.
"We invite local businesses and organizations to help sponsor the bike ride. For people who want to donate, but are unable to participate, contributions can also be made via PayPal on SMECO's website," Natalie Cotton, SMECO's community and public affairs director, said.
"The funds raised at this event will benefit Southern Maryland veterans and military," Ms. Cotton said.
Last year, the event raised more than $23,000, and 470 cyclists participated. Another $18,000 was raised by the SMECO annual Charity Golf Outing in October. The events are supported by a group of volunteers, vendors, and the SMECO executive team.
SMECO selects a different organization each year to benefit from the fundraising events.
"We are looking forward to working with the SMECO team to help raise funds for this meaningful program," Cari DeSantis, Melwood's president and CEO, said.
Melwood's website says, Operation: Tohidu as a seven-day holistic retreat designed for wounded veterans and active duty military who are dealing with post-traumatic stress disorder, mild to moderate traumatic brain injury, and other deployment related traumas.
It is designed to help them overcome obstacles to their recovery and support their successful reintegration into their homes and communities.
"SMECO's dedication to the community it serves is admirable, and their employees' charitable spirit is heartwarming," Ms. DeSantis said.
"Tohidu" is a Cherokee word meaning peace of mind, body, and spirit. Melwood's Operation: Tohidu is an experiential rehabilitation program that focuses on confidence-building, outdoor activities, and group discussion in a relaxed, positive environment using proven techniques for the self-management of symptoms, stressors, and responses.
Sessions are scheduled throughout the year at Melwood's Retreat and Recreation Center in Nanjemoy.
Jim Hudnall of the Oxon Hill Bicycle and Trail Club said, "Our club members collaborated with SMECO on the first ride in 2012 to help celebrate the co-op's 75th anniversary, and we've been very pleased with the way the event has grown. As a cyclist who participates in a lot of rides, this is one of the most well-organized and most enjoyable. Our club members rave about the SMECO 75 and put it at the top of their list."
Ms. Cotton expressed gratitude for the support provided by companies and organizations who contribute to the fundraisers.
"Because of the resources that our business partners provide, we are able to raise a substantial amount of money that makes a significant impact on local charities," she said.
For more information on Southern Maryland Electric Cooperative, visit their Leader member page.