Charting A Way Forward for Wounded Warriors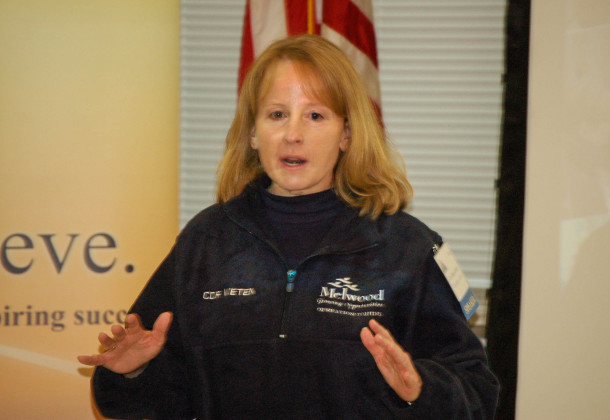 CDR Mary Neal Vieten speaks at The Patuxent Partnership's 2015 Annual Meeting
A different kind of boot camp awaits some veterans who have been diagnosed with Post Traumatic Stress Disorder, or are reporting its symptoms on their own. No drill sergeants this time, though – just compassionate, peer-oriented intervention designed to restore confidence, rebuild trust, and support reintegration to civilian life.
It's Operation:Tohidu (Cherokee for "peace of mind, body, spirit"). Their work was presented as part of a focus on wounded warriors during The Patuxent Partnership's 2015 Annual Meeting held last week.
Additionally, Greenwell Foundation's burgeoning programs to support wounded warriors were highlighted.
Those attending the TPP gathering also heard from Marine veteran Jessie Blanton, who knows firsthand the challenges facing warfighters returning home with serious injuries.
All three presentations pointed to the success of bottoms-up approaches to helping veterans, drawing directly on the resources and people in local communities. Vets returning from the theater of war have to readjust immediately upon their return – a near-impossible task, says Matt Scassero, a Navy veteran and peer mentor with Operation:Tohidu. In prior generations "veterans had a month on a troop ship, coming home with others, to decompress," he said. "Today, returning veterans jump on a plane." He also noted that more service members are returning with serious wounds, and more women are serving, so reintegration models need to change.
CDR Mary Neal Vieten is a clinical psychologist who was on active duty during 1998-2008 and has been in the reserve since then, called back to duty in 2014, She served in Operation Iraqi Freedom and Operation Enduring Freedom. CDR Vieten partnered with Melwood to launch Operation:Tohidu.  Melwood is a nonprofit in Prince George's County that has worked with differently abled persons for more than a half century.
In a therapeutic retreat setting, and in the company of persons struggling with similar reintegration challenges, veterans and returning active-duty service members learn techniques of managing stress triggers, depression, and other PTSD symptoms. The emphasis is on accomplishing this without psychiatric medications, which CDR Vieten believes "do not benefit the warfighter." Many of the clients who've gone through Operation:Tohidu were there because the medications didn't work and actually impaired their functioning, she says.
CDR Vieten is adamant that medicalizing PTSD is not the answer. "People do not deploy and then come back mentally ill. They are sometimes traumatized by the things that their country has asked them to do," she says. "Mentally ill" is a label put on them. "We replace medical interventions with things that work." Those things take the form of group discussion; team-building and self-confidence exercises, such as walking tightropes at different elevations; and equine therapy, which teaches biofeedback and relaxation techniques. Watch a short video about the program here.
Greenwell Foundation has had great success with equine therapy for different populations, including veterans. Service to veterans aligns with Greenwell's focus on "providing a place where everyone can receive the emotional and physical benefits of recreation and nature," says Kaitlyn Fernald, development coordinator. To extend the benefits to veterans, Greenwell has undertaken a project to build two non-traditional housing units for displaced veterans to live in during a transitional period during which they will take the steps to rebuild their lives. Camp Host Homes is a cooperative venture with the Three Oaks Center and the James A. Forrest Career and Technology Center, and is actively seeking additional community support.
Jessie Blanton credited the help he received from individuals and organizations in Southern Maryland with putting him back on a stable path after being injured in Afghanistan. He was a Marine trained to respond to chemical, biological, radiation and nuclear explosive events and conduct search and rescue. He suffered concussions, burns and a hearing loss while deployed but continued to serve, participating in nearly 1,000 medevacs.
After Mr. Blanton returned home, his condition cratered. Doctors discovered a traumatic brain injury, which meant "rehab to teach me how to walk again, cognitive therapy to teach me how to talk again." The very hardest things, Mr. Blanton said, were his loss of independence and a career, and the encroachment of PTSD. "I didn't have anything to offer, but I wanted to come back to work," he remembers.
With the help "of many individuals in the community," especially the organization Hits4Heroes, and Sonny Fann, NAVAIR Veteran and Wounded Warrior Program Outreach Coordinator,  Mr. Blanton's recovery continued, and he began to do public speaking on Hits for Heroes' behalf. In September, he became the fifth veteran to receive direct support from Hits4Heroes when the organization presented him with a check for $34,000. And he did return to work, this time for NAVAIR in the CH-53 program office.  Jessie Blanton says his hope is that other vets suffering with injuries and PTSD will hear his story "and take that first step" toward wellness.